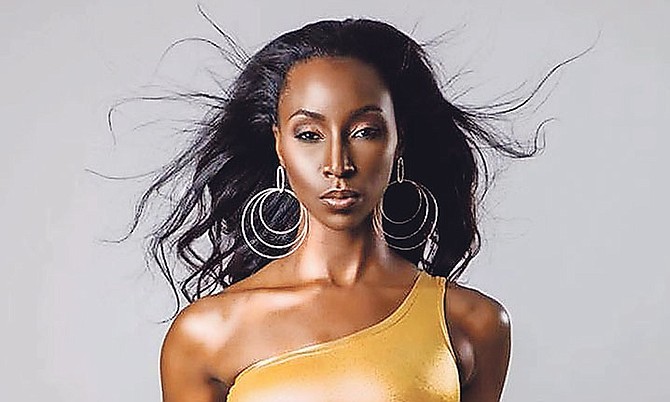 By JEFFARAH GIBSON
Tribune Features Writer
jgibson@tribunemedia.net
REIGNING Miss Universe Bahamas Yasmine Cooke is hitting out at a fake online story which claimed she had been arrested at London's Heathrow Airport for attempting to smuggle cocaine.
Calling the whole experience "devastating", Yasmine said she is baffled by how "far and wide" false negative reports of her character were spread on the internet.
After receiving dozens of phone calls and messages from concerned family, friends and followers regarding the story, Yasmine officially put the rumours to rest during a press conference last Friday at Café Channing Noelle in the Caves Village in Nassau.
"I am here to dispel rumours that have been spreading on social media," Yasmine said. "I am here in the Bahamas and I have actually never travelled through London Heathrow Airport. I would like to encourage everyone that the rumours are false and there is no truth to them."
The fake news story which was shared on social media claimed that customs and border protection at Heathrow searched the local beauty queen's suitcases upon suspicion and found a plastic bag containing white powder that tested positive for cocaine.
"It was absolutely devastating to find out that someone would actually go to such lengths to defame my character and just simply spread such a rumour. I am thankful for the support system that I have because they encourage me to speak out," said Yasmine. "It is ridiculous that such negativity could spread so far and so wide."
Yasmine said she sees fake news stories such as this as an obstacle to overcome. She said she wants to show the world that regardless of what you may be up against, you can conquer it.
"There is a lot of good work that I am striving to do under the Miss Universe Bahamas organisation and I would hope that this does not impede it in anyway shape or form. I would like to continue my reign with the utmost integrity and respect. I love my country and that is what my country deserves – a representative who can represent them in such a way, and that is what I will continue to do," she said.
Yasmine, a fourth-year medical student at the University of the West Indies, was crowned Miss Universe Bahamas 2017 last October.
The young beauty queen, who is passionate about hip hop dance and travelling, has during her reign been raising awareness of HIV/AIDS. She represented the Bahamas in Las Vegas, Nevada, at the 66th Miss Universe pageant on November 26.
Loretta Thomas, national director of Miss Universe Bahamas, said the organisation fully supports Yasmine, who has represented her country with excellence over the past few months.
As statement on the organisation's Facebook page said: "The Miss Universe Bahamas Organisation wishes to take this opportunity to officially dispel and refute any rumour or false indication of any level of wrong-doing on the part of our reining queen, Miss Yasmine Cooke. We support and endorse her fully. Miss Cooke has been an exemplary beauty ambassador for our organisation and our country since her crowning in October 2017. We are excited to continue our work with her to inspire and empower young women all over the world to own their personal value and invest it into creating a better world."
Similar stories targeting other beauty queens, including Miss Guyana, Miss Fiji, Miss United Continents, Miss Nambia and Miss Universe Malta, have also been circulating on social media. However, there is no truth to any of the articles. They are believed to have been inspired by a story published in the 1980s.
According to The Royal Gazette Bermuda, former Miss Bermuda Heather Michelle Ross plead guilty to smuggling cocaine into Britain from Amsterdam in 1982 and was sentenced to three years at Reading Crown Court in the UK.
The former Miss Bermuda and Miss World contestant was arrested at Heathrow Airport with a kilogramme (2.2lbs) of cocaine with a street value of $316,000.
The court was told she acted as a courier for an international drug ring and that she was promised $20,000 payment for her role. The drugs were found hidden in the false bottom of a suitcase.