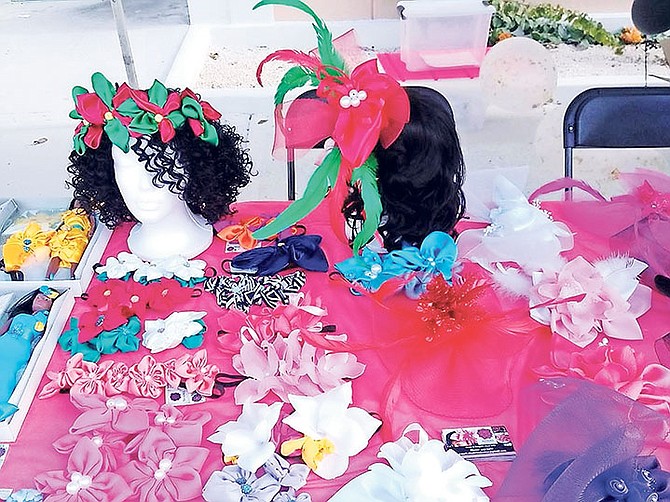 By ALESHA CADET
Tribune Features Reporter
acadet@tribunemedia.net
She may be only 22 years old, but fashion enthusiast Sayar Rolle has already fulfilled her childhood dream of owning her own business.
Shadel Bahamas is the name of her delivery service which offers products to meet the needs of every fashionista. From fascinators and headbands, flower crowns and brooches, to hair barrettes, hair pins, fabric jewellery, and customised fashion dolls – they are all hand-made by Shadel
"I was gifted with the ability to draw from a very young age and eventually I began to sketch fashion and accessory designs. I started to develop fashion and accessory design sketches in particular when I was 10 years old," Sayar told Tribune Woman.
"At about 12 years old I knew that I wanted to start my own business some day. My love for these activities grew into a dream to start my own business in the Bahamas. As time went on, I began to develop my sewing skills through watching sewing videos and tutorials."
Sayar said she enjoys the fact that there are endless possibilities in the world of fashion.
"I have the ability to create something new, breathtaking and unique every time. I also get to challenge myself and push boundaries in the fashion field. People usually tell me that the products are beautiful and unique. They also are amazed that I create all the products by hand," she said.
Giving credit to her parents Brian and Shirley Rolle, Sayar said she believes it was their words of wisdom that helped shaped her go-getter personality.
"They've always told me I was gifted and I should use my talent to make a living for myself. I also appreciate the sacrifices they have made for me to be able to be where I am at with Shadel. They have supported me from day one and they continue to push me to go further with it," she said.
Her plan is to continue to be a part of, as well as attend more local events this year in an effort to get more exposure in the Bahamian market. Also, Sayar is hoping to get her products into local stores that cater to her target market and offer merchandise that complements Shadel's.
"I also hope to develop a website for Shadel so that I can begin to reach customers outside of the Bahamas. My goal is to become a renowned fashion brand in the future that offers unique clothing and fashion accessories for fashionistas. Ready-to-wear and custom clothing is a major product category that I am planning to offer with Shadel in the future. I also see Shadel reaching beyond the Bahamas to cater to international consumers," said Sayar.