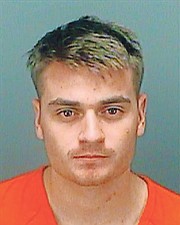 By AVA TURNQUEST
Tribune Chief Reporter
aturnquest@tribunemedia.net
BAHAMIAN Brandon Russell, the self-described Neo-Nazi and former St Andrews School student who first came under scrutiny when his roommate allegedly committed a double murder, has been sentenced to five years in a US federal prison on explosive charges.
Russell, 22, pleaded guilty in September to possession of an unregistered destructive device and improper storage of explosive materials in his Florida apartment, where police officers also found his slain roommates Jeremy Himmelman and Andrew Oneschuk.
Murder suspect Devon Arthurs, who also shared the Tampa Palms apartment, told police Russell was planning acts of terrorism - which led to the discovery of explosive chemicals and bomb-making materials and his later arrest.
Russell is the grandson of owners of a longstanding Grand Bahama family business, Park 'N Shop, run by William and Molly Russell. He is a dual citizen of the United States and Bahamas, and is a member of the Florida National Guard.
Russell returned to his Florida home from duty on May 19 to find the dead bodies of two of his roommates, according to investigators.
Police reportedly arrived a short time later with his other roommate, 18-year-old Devon Arthurs, who had held up a nearby smoke shop and confessed to killing the men because they disrespected his Muslim faith.
Arthurs told police he had recently converted to Islam and no longer shared the same Neo-Nazi beliefs as his roommates.
He also told police, according to The Miami Herald's account of the arrest affidavit, that Brandon Russell had previously "threatened to kill people and bomb infrastructure" in Neo-Nazi online chat rooms.
During a sweep of the apartment, the FBI and Tampa police found a white, cake-like substance in its underground garage that tested positive for hexamethane triperoxide diamine (HMTD), a highly explosive substance. Police also found empty bullet casings that contained fuses which could be used as a detonator, according to The Miami Herald.
In Russell's bedroom, the FBI reportedly found a framed photograph of domestic terrorist Timothy McVeigh, who was convicted and executed for detonating a bomb in Oklahoma City on April 19, 1995.
According to the Associated Press, Russell's mother and grandmother called him a follower who liked to please his friends during the four-hour court hearing on Tuesday.
AP reports defence attorney Ian Goldstein said his client has accepted responsibility and that he wants to move forward with his life.
He called Russell's mother, who said the young man was diagnosed as being on the autism spectrum and for having attention deficit disorder since he was young.
"He was always looking for something to belong to," said Brigiite Chantalle Russell-Hilts.
Prosecutors asked the judge to sentence Russell to 11 years in prison, significantly more than the federal guidelines called for. They said Russell's behaviour between the time his roommates were found dead and when he was arrested — he went to another Atomwaffen member's house, then bought guns and drove to South Florida — indicated his propensity for violence..
Prosecutor Josephine Thomas noted that "there have been other violent incidents in this country where people are claiming allegiance to Atomwaffen." When asked about this later, she declined to give specifics.
Mr Goldstein maintained his client was traumatised by the deaths of his roommates and already suffered from mental issues.
Prosecutors, he said, wanted to lock Russell up longer 'solely because of the things he believes.' Although he admitted to having the bomb-making materials, there was no evidence he intended to use them against anyone, Goldstein asserted.
"Put him in jail for 11 years and he's going to get out and be a young, angry, untreated man," Mr Goldstein said, suggesting the judge sentence him to two and a half years in prison.
"The longer sentence you impose, the worse outcome you'll have. He'll be in prison with other people who believe the same things."
However, in a court filing Sunday, prosecutors said Russell drew a diagram of how to make an explosive in a letter he apparently intended to deliver to another "Atomwaffen Division" member outside jail.
The AP report read: "The FBI obtained copies of other letters in which Russell drew plans for an 'Airborne Leaflet Dropping Device' showing Nazi propaganda falling from the sky, prosecutors said.
"In one letter, Russell attached a blurb about a 16-year-old Nazi who in 1962 told a judge, 'I don't care how long you put me in jail, your honour, ... as soon as I get out, I will go right back to fight for my White Race and my America!'"
When summoned forward for sentencing, Judge Bucklew asked the young man if he had anything to say.
"I'm sorry for what I have done," Russell said in a soft voice. "I take responsibility for what if have done."