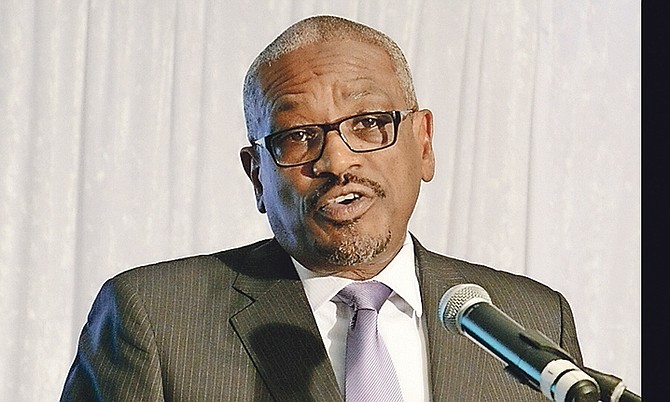 By RICARDO WELLS
Tribune Staff Reporter
rwells@tribunemedia.net
PRIME Minister Dr Hubert Minnis on Friday said the US State Department was within its rights to warn American citizens in the Bahamas and insisted the advisory offers the country a chance to "elevate" its tourism product.
In an interview with members of the press following a courtesy call from Transport Minister Frankie Campbell and representatives from the Bahamas Maritime Authority, Dr Minnis challenged Bahamians to remain focused on proving negative reports about the Bahamas wrong.
The Prime Minister also called on the country to acknowledge its faults, and with the same energy and passion being used to respond to the recent report, to address any shortcomings.
"I think every country has a responsibility to its people to do what they think is right, and we also have a responsibility to our people and we must ensure them that regardless of what negative they may hear out there, we must continue to remain focused and prove those individuals wrong," said Dr Minnis.
"I think that, yes, we may have challenges, but every nation has challenges, and the most important thing is to recognise and admit that you have challenges. Once you recognise them, then you are able to overcome them, and the mere fact that Bahamians are speaking out against it...it helps elevate and take your country to another level in terms of responsibility and ensuring that there is no avenue for such a statement moving forward."
The US State Department's advisory, issued on Wednesday, ranks the Bahamas at 'Level 2: Exercise increase caution', stating that violent crimes, such as burglaries, armed robberies and sexual assault, are common, even during daylight hours and in tourist areas.
The State Department also maintained its stance banning Embassy personnel from visiting the Sand Trap in Nassau or using jet ski rentals on New Providence and Paradise Island. However, its latest warning struck a major blow to one of the city's most popular cultural spots, the Fish Fry.
On the same day the warning was issued, Tourism Minister Dionisio D'Aguilar said the advisory was "odd and troubling," adding he was "at a loss" over why the State Department would opt to target this area given there is an on-site police station.
Vendors on the Fish Fry strip underscored the critical importance of both local and tourist traffic, expressing major concerns over the advisory's impact on eateries struggling to survive in the current economic climate.
Moreover, National Security Minister Marvin Dames in an interview with The Tribune on Thursday said police were unaware of any serious issues of concern at the popular tourist attraction.
Mr Dames, the representative for Mount Moriah, insisted no recent occurrences would have caused any serious level of concern, especially at Arawak Cay, where there is a police station on-site headed by a superintendent and supported by the RBPF's Central Division – one of the largest divisions in New Providence and which has the backing of mobile patrols.
Nonetheless, the State Department report specified: "If you decide to travel to the Bahamas: avoid the area known as 'Over-the-Hill' (south of south of Shirley Street) and Fish Fry at Arawak Cay in Nassau at night. Do not answer your door at your hotel/residence unless you know who it is. Do not physically resist any robbery attempt."