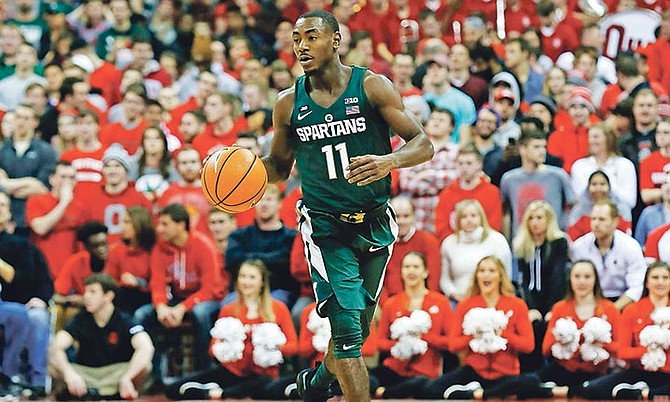 By RENALDO DORSETT
Tribune Sports Reporter
rdorsett@tribunemedia.net
His final season playing collegiate basketball is going by quicker than anticipated for Lourawls "Tum Tum" Nairn but the senior guard continues to embrace the moments of the season for the Michigan State Spartans.
"It's going by too fast. We're done with half the season already. I try not to think so far ahead but senior night is next month. But I'm cool with it. I'm ready for it," he told Matt Charboneau of The Detroit News.
The Spartans are ranked No.4 in the USA Today Coaches/Associated Press Poll at 16-2 and suffered their first loss in the Big 10 when they dropped an 80-64 decision to the Ohio State Buckeyes.
They followed that loss with a hard-fought 76-72 overtime win over Rutgers, and suddenly a team that looked like a juggernaut early in the year at No.1 overall looks vulnerable in their chase for postseason titles.
Nairn said the focus still remains on winning the conference and dominating the Big 10.
"Oh man. Everything. It would mean everything to me. To be able to say we're the best team in the Big 10, only great teams can do that. That's one goal and we'll continue to strive for it each and every day." Nairn said.
"I'm looking forward to it a lot, especially for me, it being my last year and already playing two Big Ten games. I got to thinking, I've only got eight more home games left."
Nairn is averaging just 2.2 points, but a career high 4.1 assists per game this season. After 65 career starts coming into the year, he relinquished the starting point guard role to sophomore Cassius Winston.
This offseason, Spartans head coach Tom Izzo named Nairn a team captain for the third consecutive year and said there are instances this season when both guards will play in the backcourt together, as was the case in a key stretch against Rutgers.
"Tum did a good job defensively, and Tum hits a big 3, goes 2-for-2, 1-for-1, you know, has an assist but he played pretty good defensively. I liked it when we had Tum and Cassius in there together some, but they were physical inside," Izzo said.
Nairn averaged 3.7 points, 2.5 rebounds, and 3.7 assists as a junior last season.
After leading and facilitating for other players for the last three years, Nairn said he now has a new perspective as a senior in his final campaign.
He was awarded the Stephen G Scofes Inspirational Player Award this past offseason for the third straight year when the Spartans hosted its annual Men's Basketball Awards Banquet for the 2016-17 season.
"My whole deal since I've been here because it was instilled in me as a freshman, that you send your seniors out the right way. It's emotional for me, being on the end of the spectrum now," he said.
"It's Tum's senior year but I've always been playing for my teammates, playing for the guys that have been putting in the work for the programme, even playing for the guys that I never even played with.