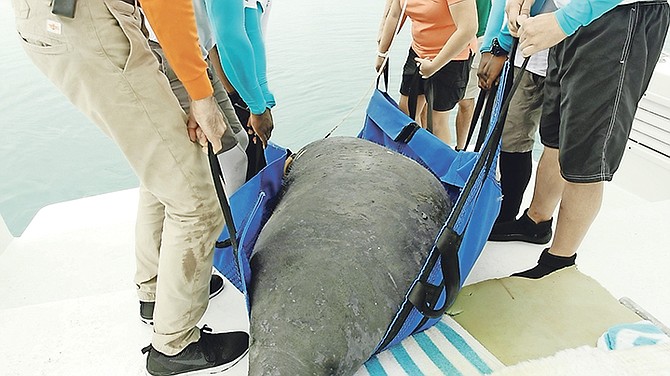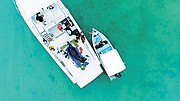 AFTER a three-month recovery period under the close care of the marine mammal team at the Atlantis resort on Paradise Island, a wild Florida manatee (one of approximately 3,000 male Florida manatees left in the world) first rescued in September, was released near his rescue location at Spanish Wells.
The release took place on January 9. As the only full-service resort with the medical, laboratory, research and holding capacity of an independent marine life facility, Atlantis' marine mammal specialists and veterinarians at Dolphin Cay, with local and international agency and research partners (The Bahamas Department of Marine Resources, US Geological Survey, University of Florida, Bahamas Marine Mammal Research Organisation and Florida Fish and Wildlife Conservation Commission), monitored the manatee's progress 24 hours a day leading up to his full rehabilitation. Over the three-month recovery period at Atlantis, Manny grew from a malnourished 365 pounds to a healthy 840-pound weight, and has now rejoined the growing population of wild manatees in the Bahamas, a press release from the resort noted.
The manatee population in the United States has recovered sufficiently to be federally downgraded from endangered status to threatened this past spring.
"After much dedicated care and scientific evaluations by our team, I am happy to report that Manny has made a complete recovery at Atlantis, Paradise Island. On Tuesday, January 9, our team of marine mammal specialists, veterinarians and local and international agency partners successfully returned a healthy Manny back into his ocean home. There is no better way to start the New Year than seeing this manatee back in his natural habitat, where he belongs. Marine life research, official rescues and rehabilitation processes are at the core of our identity. As the only resort destination to handle marine mammal care of this caliber, we are truly committed to continuing to raise awareness in the field of science. We, along with our agency partners and BMMRO, are excited to monitor Manny's movements through his satellite-monitored GPS tracker, and conducting research related to his journey," said Ted Turner, vice president of Dolphin Cay operations.