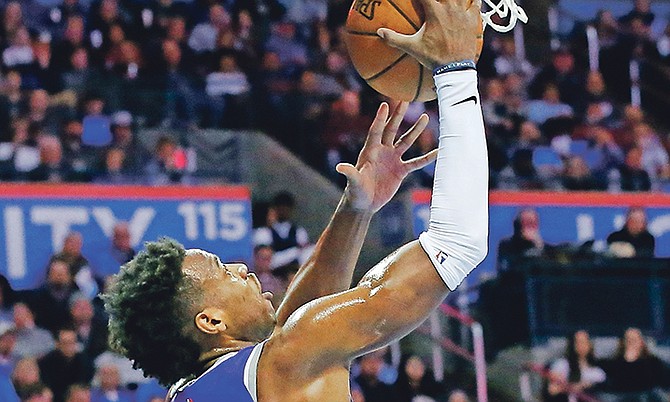 OKLAHOMA CITY (AP) — Russell Westbrook had 19 points, 16 rebounds and nine assists before being ejected, and the Oklahoma City Thunder rallied from a 15-point first-half deficit to beat the Sacramento Kings 95-88 last night.
Carmelo Anthony added 20 points, Paul George scored 18 and Steven Adams had 13 points and 13 rebounds for the Thunder, who avoided what would have been a fourth straight home loss.
Buddy Hield scored 16 points and Willie Cauley-Stein added 15 for Sacramento, which is 1-16 on the road against Oklahoma City since the Thunder franchise moved from Seattle.
Oklahoma City was up 91-77 with 2:51 left before official Matt Boland called two quick technical fouls on Westbrook after he complained about being called for travelling on a play on which he thought he'd been fouled.
Another official, Gediminas Petraitis, then called a technical foul on Thunder coach Billy Donovan for protesting Westbrook's ejection. Hield made all three technical free throws and Cauley-Stein went 1 of 2 from the line with 2:35 left, pulling Sacramento to 91-84. But the Kings made only one field goal the rest of the way.
The Kings led 24-20 after the first quarter and stretched their advantage to 48-33 after two free throws by Bogdan Bogdanovic with 3:03 left in the half. The Thunder closed the half on an 11-3 spurt to pull to 52-46.
The Thunder seized control with an 11-0 run in the third quarter, highlighted by consecutive alley-oop passes from Westbrook for dunks — first to Anthony, then to Adams. Anthony's two free throws put Oklahoma City ahead 75-66 with 1:39 left in the quarter.
After the teams went scoreless for the first three-plus minutes of the fourth, Sacramento pulled within seven on a basket by Cauley-Stein, but Patrick Patterson hit two 3-pointers in a 17-second span and Alex Abrines followed with another to extend the Thunder's lead to 86-70.
TIP-INS
Kings: Hield traveled back to Norman on Sunday to visit practice at No. 4 Oklahoma. Hield led the Sooners to the Final Four in 2016. . The Kings, who beat the Thunder on Nov. 7 in Sacramento, haven't won two straight over the Oklahoma City franchise since the 2007-08 season, when the team was in Seattle. . The Kings made 15 of 25 free throws, only slightly better than the Thunder, who went 14 of 29 from the line.
Thunder: Ace defender Andre Roberson sat out for the eighth straight game with patellar tendinitis in his left knee. . For the 14th straight game, Westbrook recorded a double-double with at least 20 points. The only guard in NBA history to have a longer such streak was Michael Jordan, with 15 straight in 1989. . George, the NBA steals leader, had five. . Westbrook's 16 rebounds were three off his career high. . During halftime, the team showed a video with Thunder players reciting excerpts from Martin Luther King Jr.'s famed "I Have A Dream" speech.
UP NEXT
Kings: Host the Utah Jazz on Wednesday before embarking on a six-game road trip.
Thunder: Host the Los Angeles Lakers on Wednesday.
———
For more NBA coverage: https://apnews.com/tag/NBAbasketball