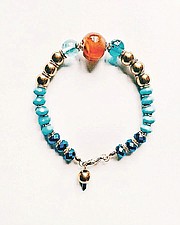 By ALESHA CADET
Tribune Features Reporter
acadet@tribunemedia.net
Women around the world are taking advantage of DIY suppliers to make their dreams come – designing and creating jewellery and other accessories to make a living.
Sandy Knowles is one such woman who lives right here Nassau. While she does not have the easy access to online outlets like designers from other countries, she said local stores such Home Fabrics provide excellent raw materials.
Sandy said she knew from a young age that she wanted to start a beauty venture one day. Whether it would feature clothing, jewellery or beauty products, she always envisioned doing something fashion related in a professional capacity.
"Even if I just created a Facebook page to start, all I knew was that I wanted to own my own business someday. I enjoy the fashion industry and the entire idea of fashion. From since I was much younger I would play dress-up in my mother's vintage clothing and I also collected magazines," she told Tribune Woman.
As she grew into adulthood, her love for fashion also grew. Sandy said the easiest project for her to take on was to make jewellery and accessories, and so Susie's Jewelry was born.
The home-based business offers stylish items for both men and women, including earrings, gemstone necklaces, ankle and body chains, custom pieces, with rings and scarves to come soon.
"I like the glamour and luxury of fashion, and also the ability to basically transform yourself into whatever you can think of. It's an entirely new experience when you can show up in the world the way you want to. I'm often told that my pieces are very one-of-a-kind and gorgeous. One of the biggest influencers in my life, my mom Mazell Knowles, happens to also create jewellery of her own and regularly sells them to her friends. My mom has always had an entrepreneurial spirit, as she launched and operated a few businesses over the years," said Sandy.
The designer said her mother's drive opened her eyes to the possibility of also being able to create something beautiful herself one day.
"As lofty as that may sound, it is true now more than ever with the new wave of consciousness in the world. Relying on a 9-to-5 is no longer a singular option. You can go out in the world and create a job for yourself. The other person I'd say has influenced me so much was my father, now deceased. He was a truly hard-working, devoted and determined man. I learned the skill from both him and my mom to keep on going even in the tough times," said Sandy.
Her long-term goals for Susie's Jewelry include developing the brand and expanding to offering apparel, and eventually owning and operating a storefront close to Bay Street with a website for online purchases.
"I'd be able to collaborate with other local vendors to host pop-up shops and fun community give-backs, and also mastermind groups for people who'd like to venture into running their own businesses, too. I'm also planning on getting brand new packaging; nothing too fancy," said Sandy.
For those interested, follow Susie's Jewelry on Facebook and Instagram.