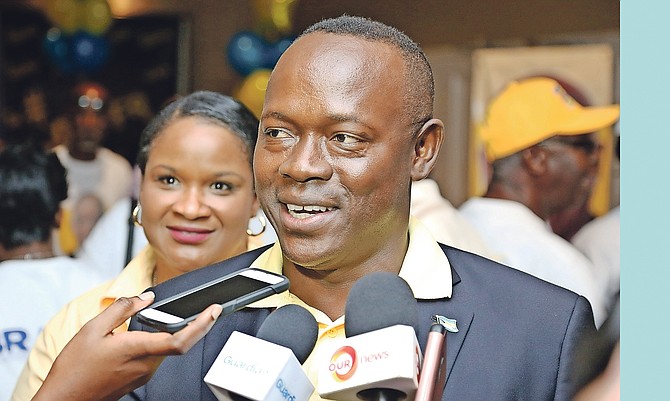 By KHRISNA RUSSELL
Deputy Chief Reporter
krussell@tribunemedia.net
THE situation in Ragged Island remains "absolutely critical," Progressive Liberal Party (PLP) Deputy Leader Chester Cooper charged yesterday, as he slammed the Minnis administration for its "slow" progress in his constituency months after Hurricane Irma decimated the island.
He said medical services are non-existent, police are not on the island and there is no administration building or school, the Exuma and Ragged Island MP told reporters as he described life in the aftermath of the hurricane. The island was one of the hardest hit areas by Irma last September.
He said some homes remain in need of building supplies and criticised the National Emergency Management Agency (NEMA) for offering "very little help" to those who are unable to help themselves.
However, NEMA Director Captain Stephen Russell told The Tribune yesterday the funds for restoration and recovery of the island are with the Ministry of Works. This ministry, led by Desmond Bannister, is heading any operation to do with Ragged Island, Capt Russell said.
Asked about this, Mr Bannister insisted he would not engage in a back and forth with Mr Cooper, adding that if he raised the issues in the House of Assembly when it convenes tomorrow, his grievances would be addressed.
But while government officials seem to pass the buck on whose responsibility it is to get Ragged Island back on track, four months since Irma's passing the progress of recovery is slow, Mr Cooper said.
"Ragged Islanders are Bahamians too," Mr Cooper said during a press conference at the PLP's headquarters yesterday. "They live there. They fish. They do construction and someone will get hurt and there won't be a nurse to apply (even) a Band-Aid. So this is a critical situation and we're calling on the government to restore appropriately. Not tomorrow, but today.
"I think in relation to Ragged Island the progress in recovering has been slow. There has been a return in electricity by BPL to most of the homes left standing. We have a makeshift water system that is providing minimal supply. The telephone company has been able to restore the service very quickly and people are generally going about their normal business.
"One thing that we await is an explanation from the government as to what their 'green city' is about. We haven't heard any conversation about it. We don't know exactly what the plan is. The residents of Ragged Island would like to know more about it and the general public would like to know for starters. So we would be grateful if the government would release some more commentary with respect to plans and with respect to how they would go about implementing those plans with the involvement of the people of Ragged Island."
Mr Cooper said the resiliency of residents has allowed them to move forward with the little progress they have made for themselves.
"We received very little by way of building supplies from NEMA. We received much support from the general public (and) from charitable organisations. We've been very grateful for the receipt of the various support of the public so we are pleased with the general support of Ragged Island. There can be more done with respect of the government. I think it's moving too slowly and of course NEMA's support of persons who are unable to help to themselves is absolutely critical."
"Half of the buildings were completely destroyed. People are using their own resources to bring the buildings back up to speed. Fisherman have corralled their limited resources and gone back to work and so business is moving by way of the resources and the means of the resilience of the people of Ragged Island. More can be done in terms of the government buildings. There is still no police service in Ragged Island, no medical service, no nurse, no administration building, no school and no plan as to when these issues are going to be addressed. So this is of grave concern to me as the member of Parliament and of course for the community of Ragged Island," he continued.
Days after Hurricane Irma ravaged the small community, Prime Minister Dr Hubert Minnis said it was the government's intention to transform Ragged Island it into the first fully "green" island in the region.
The prime minister explained renewable energy and smart technology from solar energy and sustainable water purification systems will be utilised for this effort with the help of residents and descendants of the island.
To further support these efforts, Dr Minnis said the government will seek not only the assistance of Bahamians, but look to international counterparts.
At the time, he did not reveal a cost to be associated with this undertaking, adding Minister of Finance K Peter Turnquest would offer details at a later date on the price tag of Hurricane Irma's related costs.
Last month, Mr Bannister told reporters the Minnis administration's proposed plan would cost tens of millions of dollars and currently involves the private sector along with international partners.
These comments were in response to Mr Cooper who in December was among critics who insisted the government was not working fast enough. Mr Bannister could not give a timeline for the needed work in Ragged Island but said both the Carbon War Room and Tesla were involved in the plans.