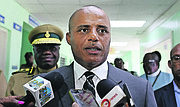 By RICARDO WELLS
Tribune Staff Reporter
rwells@tribunemedia.net
NATIONAL Security Minister Marvin Dames yesterday admonished Official Opposition Leader Philip "Brave" Davis for his insistence that the disbandment of the National Intelligence Agency (NIA) had led to an increase in certain categories of crime.
Mr Dames accused Mr Davis of attempting to politicise crime by intentionally overlooking data which shows downward trends in crime.
The Mount Moriah MP added he was saddened to see Mr Davis stoop so low in his quest to ascend to a higher political office.
Mr Davis on Monday branded the Minnis administration "hypocritical" and "disappointing" in its efforts to lower crime numbers since being elected to office last May.
Mr Davis said he saw "no evidence" or "effort" to support the notion the FNM was being tough on crime.
In response yesterday, an irate Mr Dames hit back, saying: "Everyone can see that when you compare the last quarter of last year with what we were experiencing all of those months before, especially at the beginning of last year, there is no comparison.
"We had one homicide in November of 2017 - unprecedented. And this was a domestic related matter. And I believe that there were about five homicides in the month of December, ok. So when you compare by quarters for example, the numbers were reduced significantly and people on the streets were talking about it."
When compared, there is a 62 percent decrease in murders from the last quarter of 2016 to same period of 2017.
Mr Dames continued: "We started this year off – and again when you look at the numbers, while we are not happy and pleased that we had three homicides on the island of Grand Bahama – but if the former deputy prime minister wants to play politics, we had 33 homicides for the first two months of 2017. But we don't intend to play politics.
"He talked about the National Intelligence Agency, he has no factual information on that."
Mr Dames said his ministry carried out an assessment study, polling the heads of law enforcement on the needs and perceived role of the NIA.
As a result, Mr Dames said his office ruled that the agency served no key purpose, as well as lacking the legal framework needed to exist.
"You can't run a government that way. Come on, let's get serious," Mr Dames said. "We should not be making statements as leaders when we cannot factually support those statements."
He added: "We should not be playing politics with crime. Speak to the facts for what they are. Go, sit down and have a conversation with your commissioner of police before you make these outlandish comments supported by no factual basis."
Addressing current crime trends, Mr Dames commended the efforts of police in Grand Bahama and Abaco, where three murders were recently recorded and two decomposing bodies were discovered respectively.
Mr Dames said police are concluding their investigations in all the matters.
He said: "It will not be business as usual anymore. We will police differently. We have already begun that process and as a result of early efforts, we are beginning to see some positive change in the right direction. We will continue to do it."
Mr Dames added: "As I said before, we are not here to play games with crime. We understand how important reducing the crime levels in this country is to the overall stability of our nation."
"And so, you will continue to see our police operation from island to island, wherever we need to go to flush out the criminal element that has operated throughout this country for far too long. They have come to realise that their time has come because we are solving these matters, but we are putting in place an aggressive preventive strategy to continue to bring the numbers down.
"But as we do it, we clearly understand that you are not going to have a year with no homicides. No country can boast of that. But I can assure you one thing, those persons who feel the need to engage in criminal activity, we will use everything within the scope of our powers to isolate you and to put you where you belong.
"We have to get back to a place where Bahamians can live in their communities without having concern about our young men killing up (each other)."