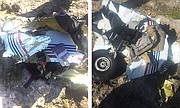 By RASHAD ROLLE
Tribune Staff Reporter
rrolle@tribunemedia.net
ALTHOUGH fatal airplane crashes are rare in The Bahamas, in the wake of Wednesday's tragedy that killed six people near Andros, Randy Butler, CEO of Sky Bahamas, told The Tribune existing regulations governing the industry may be stiff but are still inadequately enforced.
He said at least 28 planes operate illegal charters each day, a longtime problem that still plagues the industry.
Mr Butler said: "Some might say the regulations are too strong in the industry but enforcement is an issue as the Civil Aviation Department or authority is supposed to have adequate, qualified personnel to go and perform oversight, inspections, to see whether people are properly licenced, medically fit and if the airplane is adequately maintained and if insurances are in place; they don't always enforce the laws and regulations relating to these."
A number of certifications and licences are required before a commercial flight can take off, including an aircraft airworthiness certificate, valid airmen certificates which relate to the physical fitness of a pilot and aircraft maintenance licences, among others.
Officials yesterday said it is too early to say whether all the necessary licences were obtained and valid with respect to the downed twin-engine Piper Aztec plane.
Juliea Brathwaite, manager of safety oversight at the Department of Civil Aviation, said yesterday authorities are still compiling all necessary information related to the ill-fated flight.
"We're still in preliminary stages and active investigations are taking place with representatives on the ground," she said. "We are waiting on a preliminary report to be provided. There is no definite word on whether requirements were followed or whether licences were in place – we will need to know what all the team has obtained. We should be getting a briefing on that once they are back on the island on Friday and it's not industry practice to give information without having all the facts," she said.
Officials have said no flight plan was filed before the plane, which was destined for New Providence, took off. Flight plans are only mandatory if flying from Nassau or Freeport. This factor could have contributed to the length of time it took before officials were made aware that the plane was even missing.
The flight left Andros shortly after 8am for a trip that normally takes less than half an hour. According to reports, the Department of Civil Aviation learned around 11am that the plane was missing and had not reached its destination, nor returned to Andros.
"In Nassau and Freeport, they've made it a requirement to come in and out, that you have a flight plan," Mr Butler said. "From island to island there is no air traffic control or traffic control services, so if you file it, it could be that you say 'I'm taking off from Acklins, it would take 15 minutes and when I get there I'll call you.' We need to take a look at the whole system; it needs to be more robust."
As far as he knows, Mr Butler said, no one has ever been taken to court for failing to comply with civil aviation regulations, despite the fact that authorities have found people not in compliance.
"If you find something wrong," he said, "you should follow it through to the court system."
As for unauthorised charter flights, he said the Department of Civil Aviation still lacks the manpower and willpower to properly enforce all regulations.
The last time a person was killed during a flight that originated in The Bahamas was more than a year ago, on June 19, 2016 when two men died in a crash of a Piper Aztec 27 plane. Officials determined that the pilot in that plane was not licenced and had his licence revoked in 2001. Then Acting Director at the Department of Civil Aviation Keith Major said it was the responsibility of the pilot to ensure he had necessary documentation.
The second most recent fatal plane crash in the Bahamas involved a Learjet carrying nine people, including the late Dr Myles Munroe and his wife, Ruth, which crashed as it headed to Grand Bahama in November 2014. Officials determined the crash was the result of poor decision making from the pilots.
Although fatal crashes are relatively rare, it has not been uncommon over the years for planes to crash or make emergency landings. Just last week a plane crash-landed in swamp land shortly after taking off from Chub Cay airport in Great Harbour Cay, Berry Islands. The pilot received minor injuries during the crash.