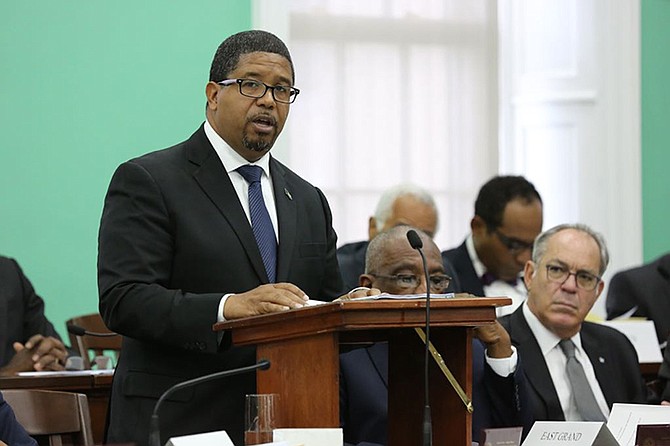 By KHRISNA RUSSELL
Deputy Chief Reporter
krussell@tribunemedia.net
WHILE costs associated with audits launched in several government ministries and departments remain unclear, Deputy Prime Minister Peter Turnquest insisted that whatever is spent on this undertaking will ensure certain actions under the previous administration are revealed to the public.
He was unable to tell reporters what the Minnis administration has spent on the probes, explaining that each audit has a varying degree of complexity, resulting in varying costs.
Mr Turnquest, Minister of Finance, said some of the audits have been completed, others are in the process and some will be kicking off in short order.
Unable to say when the entire process will end, he said Prime Minister Dr Hubert Minnis will decide when he wants to release certain audit reports.
"It all has a lot of bearing on what is discovered and how you deal with that from an administrative and legal point of view and so I wouldn't want to preempt or predict when that is supposed to be released," Mr Turnquest said in response to a question from the media on the sidelines of the Bahamas Business Outlook at Baha Mar on Thursday.
He continued: "All the audits have gone out for competitive tender. They have varying degrees of complexity and so varying degrees of cost, but at the end of the day whatever is spent it is going to be beneficial to the country long term. It is money that I think is necessary to ensure that we discover what has happened (and) why it has happened.
"We know the break downs that occurred in administrative or system controls so we don't want to have a repeat and so we are very focused on that because we want to drive efficiency and be able to minimise the tax burden on the Bahamian people. Then we have to get our cost under control and ensure that we limit the amount of waste, as much as possible and this is one of the reasons why we do that.
Since taking office in May 2017, the Minnis administration has initiated widespread auditing across government offices.
Included in these probes are the Gaming Board, Post Office Savings Bank, the Hurricane Relief Fund, the National Insurance Board, the Bahamas Agriculture and Marine Science Institute, Urban Renewal and Water and Sewerage.
Last month Mr Turnquest told The Tribune that the Bahamas the government could have saved Bahamian taxpayers millions of dollars if the country had an effective internal audit programme.
Addressing a Bahamas Institute of Chartered Accountants (BICA) and Association of Certified Fraud Examiners (ACFE) seminar in December, Mr Turnquest stressed the need to strengthen this function.
He noted an effective internal audit programme, and commitment by the Government to follow through on its recommendations, could have prevented significant losses, adding that the Auditor General's department needed strengthening from both a staffing and capacity standpoint.