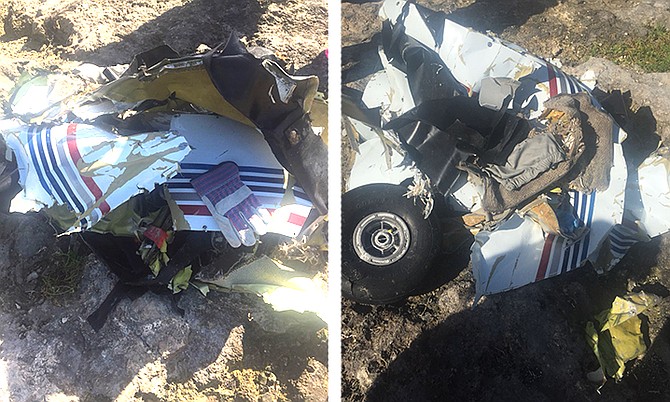 By RASHAD ROLLE
Tribune Staff Reporter
rrolle@tribunemedia.net
OFFICIALS have ended their search and rescue for people on board the Piper Aztec plane that crashed as it headed to Nassau from South Andros on Wednesday.
The Air Accident Investigation Department of the Civil Aviation Department announced the search had been discontinued in a press statement on Friday, outlining their response in the wake of the fatal crash.
Six people, including one pilot and five passengers, died in the crash. It was the first fatal plane crash in nearly one and a half years for the country.
Officials said once accident investigators found and retrieved debris from the aircraft, which had disintegrated upon impact with the water, they realised "the complete aircraft could not be located and retrieved."
"…No further analysis can be conducted on the aircraft," officials said in a press statement. "Subsequently, the search and reduce effort was officially terminated. The pilot and five passengers on board perished in the accident which occurred in waters approximately four miles southeast of the Mastic Point Settlement."
In the statement, accident investigators detailed their efforts in wake of the accident.
"On 17 January, 2018 the Air Accident Investigation Department (AAID) was notified by Nassau Air Traffic Control that an aircraft N62769, a Piper Aztec, six seater aircraft went missing around 8:00am while en route to the Lynden Pindling International Airport from San Andros Airport," the statement said. "Search and Rescue assets with assistance from the Royal Bahamas Defense Force, the United States Coast Guard and BASRA, as well as other aircraft from Nassau and local boaters in Andros, participated in the search for the missing aircraft and its occupants. Around 5.00pm, the AAID was notified that a debris field was located where the aircraft crashed. Due to night fall search and rescue efforts had to be suspended and commenced around 7am Thursday January 18. On Thursday 18 January, Investigators from the AAID with assistance from the Bahamas Civil Aviation Authority, Safety Oversight Department travelled to Andros Island to commence the investigation."