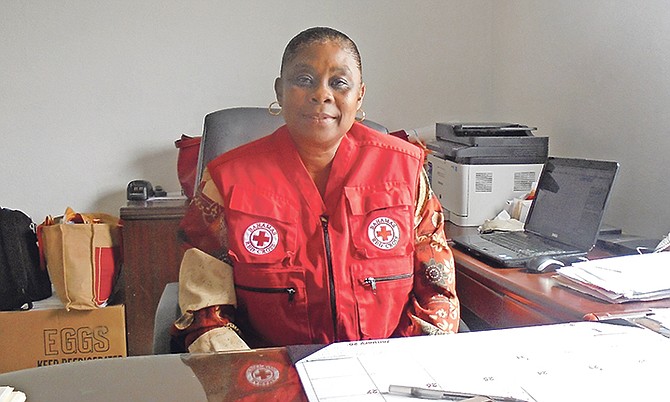 By DENISE MAYCOCK
Tribune Freeport Reporter
dmaycock@tribunemedia.net
DUE to the depressed economic situation in Grand Bahama, the Grand Bahama Red Cross Centre has seen an increase in persons coming to their doors for assistance.
The centre and its volunteers continue to extend a helping hand to many persons in the community by providing hot meals and delivering food parcels.

Administrator Stephanie Barr, who oversees the centre on Jobson Avenue, told The Tribune there has been an increase in individuals to the centre since 2016 following Hurricane Matthew.



"From 2017 after Irma, and in 2016 with Matthew we had noticed an increase of persons visiting the centre, and we don't turn anyone away," said Ms Barr.

"We have persons who come to the door and haven't had anything to eat, and we give them a cup of soup - no one gets turned away because we realise that times are tough.
"When Matthew struck, a lot of persons lost their jobs; so we had the job losses, and then persons were displaced before that."
Ms Barr said the Red Cross has been able to respond and assist, thanks to assistance from corporate Grand Bahama and individuals who come forth and donate.

The Red Cross' Meals on Wheels programme provides hot meals to 50 persons daily five days a week, and this year Ms Barr said they are looking to expand the programme to the East End.
The organisation delivers monthly food packages to 10 individuals and has an outreach programme where they go into the community and drop-off food parcels.
In December, Red Cross volunteers went into parts of Freeport, particularly into the Imperial Park Subdivision where several homes were destroyed by a tornado when Hurricane Irma skirted past Grand Bahama last September.

"We gave out food parcels to lift them up; we did not have a chance to do it during the storm, and so we made it our business to visit them in December," she said.
While the organisation no longer accepts clothing, persons can drop off canned and dry goods to the centre.
"We have persons that come here and donate cases of items which we are very appreciative for; we also hold fundraisers, and we are grateful to the corporate community which continues to donate and support us," she said.
Additionally, the Grand Bahama Red Cross provides First-Aid training and first responder assistance at public events such as Goombay Summer Festival, and the New Year's Day and Junior Junkanoo Parades.
More like this story