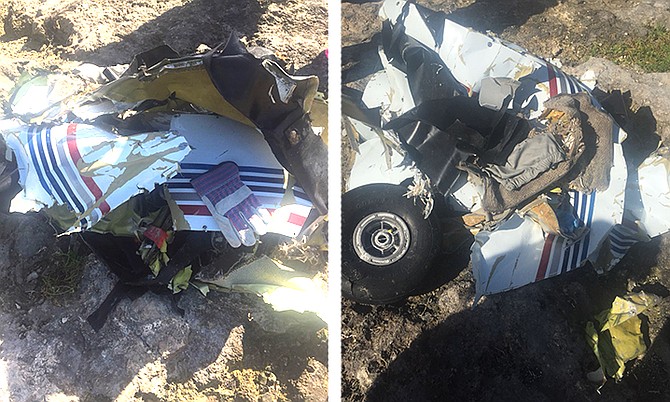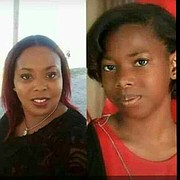 By RICARDO WELLS
Tribune Staff Reporter
rwells@tribunemedia.net
OFFICIALS have recovered small bits of debris from that ill-fated Piper Aztec that crashed in waters off Andros Wednesday with six persons on board, with the damage suggesting the small plane shattered upon impact.
Meanwhile, Andros residents are grappling with the tragedy and hope authorities can recover the victims' bodies so they can get some closure.
"Days, months, even years would have to go by before I begin to understand how any of this happened or could be real," was how Kermit Adderley Sr, husband of passenger Margaret Adderley, described his emotions yesterday.
According to Mr Adderley, the 49-year-old mother of two boarded the doomed flight with a purpose – she was travelling to the capital to see and hold her grandson who had been born two days earlier.
"She wanted to be with our oldest son and his wife. She wanted to see the baby," he said. "She got back Sunday from Nassau – our nephew got married. Then the news came that the baby was here and she told me she had to go (Wednesday)."
The devastated husband said he and members of the family never thought it would be Mrs Adderley's last trip.
The sentiment was shared by other grieving Andros residents contacted by The Tribune yesterday, many of whom said they would not give up hope for their loved one's return until authorities say so.
In addition to Mrs Adderley, loved ones have identified Desiree Shaneig Russell and her young daughter Destinique Wilson; Carter Campbell, a local store owner; Valentino Knowles and Captain Darren Clarke as those on board the ill-fated flight.
Ms Russell and her daughter were identified by a family friend, as relatives contacted by this newspaper were too distraught to speak.
However, many took to the Facebook page of the mother of five to express their grief. One message read: "I loved y'all in life and I will love y'all in death. Someone please wake me up. Please tell me it ain't true."
Attempts to speak to the mother of Mr Knowles were also unsuccessful. Family members speaking to The Tribune on her behalf said it was "too much" for her to address, another saying, "she isn't up to it at this time."
North Andros and Berry Islands MP Carlton Bowleg yesterday said the entire community of North Andros was devastated and struggling to understand Wednesday's tragedy.
He told The Tribune words could not explain what the entire island was feeling.
"The size of Andros may be considered big, but our community is small," he said. "This tragedy has touched every corner and troubled every heart.
"This will take some time to recover from," he added.
Meanwhile, authorities suspended search and recovery efforts shortly after 3pm yesterday. Delvin Major, chief investigator at the Air Accident Investigation Department of the Department of Civil Aviation, said the crash's impact completely shattered the small Piper Aztec aircraft.
"The impact was so great, I am of the belief that the plane was totally destroyed upon impact," he said. "The little that remained, we were able to haul from the sea. Everything else washed away."
The Royal Bahamas Defence Force dispatched four military divers and a patrol aircraft to assist in the search yesterday.
"(The) US Coast Guard, conducting a search for the aircraft yesterday afternoon (Wednesday) sighted debris and a body in waters off the east coast of Mastic, Point, Andros but was unable to assist further due to severe weather conditions. The Defence Force deployed its aircraft earlier this morning (Thursday) along with four military divers to assist local authorities in finding the aircraft and its passengers."
Officials recovered a small pile of debris yesterday, however, no bodies were recovered. All six persons on board the plane are believed to be dead.
Authorities suspect Cpt Clarke encountered bad weather shortly after his 8am take-off and attempted to divert the flight back to Andros, but was unsuccessful. The plane crashed in waters off the east coast of Mastic Point, North Andros.
A social media post by young Destinique noted the weather conditions were problematic, as she asked persons reading the message to pray for those on board. That post was made at 8.11am Wednesday.
In an interview with The Tribune yesterday, Chief Meteorologist at the Department of Meteorology Basil Dean confirmed that the weather radar showed blanketed showers in the area of the crash throughout the day.
Mr Dean, a qualified VFR pilot himself, said the conditions that day would have required a "certified, skilled pilot operating a quality plane."
"The forecast called for a weakening frontal boundary to remain in the area of Central Andros, an area just south of the crash," Mr Dean said. "Sky conditions were partly to mostly cloudy and breezy, with isolated showers and a few thunderstorms in that area.
"When we look specifically at the time of the flight, those conditions would have been in the area of the flight, extending to mid-way point of that flight; just east of Andros and west of New Providence. Those conditions never improved until later, into the evening."