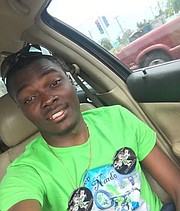 By MORGAN ADDERLEY
Tribune Staff Reporter
madderley@tribunemedia.net
MORE than a week after his disappearance off the coast of Bimini, the family of Samuel Leroy Moss Jr, 23, is desperate for him to be found alive.
A Baha Mar lifeguard and avid sailor, Mr Moss flew from Nassau to Fort Lauderdale on January 13 to purchase a small fishing vessel, The Tribune was told. The last time Samminka Moss, 21, heard from her brother was January 14.
"He then drove the boat from Fort Lauderdale to Bimini and arrived in Bimini around 5pm," Ms Moss told The Tribune. "He slept in Bimini by family members (that night). Sunday morning around 7.45am he set sail to head from Bimini to Fresh Creek, Andros, to meet some friends.
"The friends said Sammy never reach to Andros. Sunday morning around 8.15am was the last time anyone has heard from my brother."
She said the family immediately contacted the Royal Bahamas Defence Force (RBDF) and the Bahamas Air Sea Rescue Association (BASRA).
Ms Moss said the family has been in frequent contact with the RBDF since reporting her brother as missing.
"They have been very helpful."
Ms Moss has previous experience working with the RBDF. In February 2017, they successfully rescued her brother after an incident off Grand Bahama.
Ms Moss said: "He flew from Nassau to Miami to pick up a boat last year. He got stranded on the waters between Miami and Freeport. He didn't make it to Freeport.
"After I didn't hear from him for a few hours, that's when I contacted BASRA and the defence force along with a few others."
Mr Moss was stranded on the waters for about three days before the RBDF rescued him, his sister said.
When asked about the similarities between last year's incident and this current situation, Ms Moss said: "Last year he didn't carry any food or water, but this year he took food and water, sufficient to last him four or five days just in case he got stranded again or in case anything happens."
Ms Moss said her family is praying to God for her brother's safe return.
"My brother has always loved the water. Two things he loves (are) the water and helping people," she said.
"He has been going in the boat, sailing, diving, conching, fishing, from he was about 13.
"He would go above and beyond to help someone. If it was someone else trapped on water, and he had his boat he was going to go in wind, hail, snow.
"He has always been a person to go all out for others, whether you are family, friends - you could be a random person. You would click to him just because he has a bubbly personality, and he knows how to get along with everyone."
On January 14 at 7.54 am, Mr Moss recorded a Facebook live video as he sailed. He can be heard saying, "This the last ride. Last leg, daddy going home."