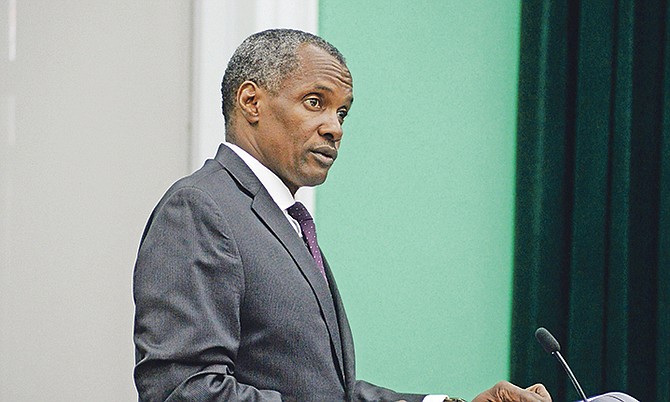 By RICARDO WELLS
Tribune Staff Reporter
rwells@tribunemedia.net
WORKS Minister Desmond Bannister yesterday suggested Bahamas Power and Light was on pace to deliver to consumers its best summer on record.
Mr Bannister made the claims during his response to concerns raised by Official Opposition Leader Philip "Brave" Davis, who had requested the government show any newly implemented strategies being used by the utility provider.
The Carmichael MP seemingly viewed the request as a swipe at recently appointed CEO Whitney Heastie and COO Christina Alston, and moved to defend the efforts and expertise of both appointments.
"Mr Speaker, the plan of the government is to run (the utility provider) with Bahamian expertise and it is going to be safer, more reliable and more environmentally friendly than it has been in the past," Mr Bannister asserted. "Let me tell you, Mr Speaker, earlier (Mr Davis) asked for some plans, I am going to tell you some things."
Mr Bannister proceeded to note several dilemmas BPL's new management team have inherited upon appointment, issues he laid directly at the feet of the former Christie administration and Mr Davis, former minister of works.
Chief among the issues he presented were organisational problems that fostered a culture of confusion throughout BPL and environmental grievances Mr Bannister claimed the Christie administration allowed the utility company to sidestep.
Mr Bannister said the management team led by Mr Heastie and Mrs Alston has created an environmental services position tasked with mitigating BPL's environmental impact.
Additionally, according to Mr Bannister, BPL has also created positions for community liaisons to track power outages and response times.
Moreover, the works minister highlighted the establishment of a bill by text campaign to facilitate the ease of receiving bills; additional avenues for bill payment through third party outlets and the establishment of a tender process, which he claimed had already saved BPL roughly $10m.
Mr Bannister also said BPL has revamped its vendor qualification process to ensure that all vendors in its purchasing and payment database are legitimate. This issue was at the base of a 2016 fraud scheme which cost BPL roughly $2m.
With respect to its summer power generation woes, Mr Bannister said the new management team has already implemented a "summer readiness plan" for New Providence, Exuma, Abaco and Bimini.
However, he did not provide any details of the plan, its cost or its scope.
Mr Bannister added: "Mr Speaker, I am only touching on some of the things that they have done. This Bahamian guy, Whitney Heastie, and this Bahamian woman, Christina Alston, have led a team that is enthusiastic about making a difference for Bahamians."