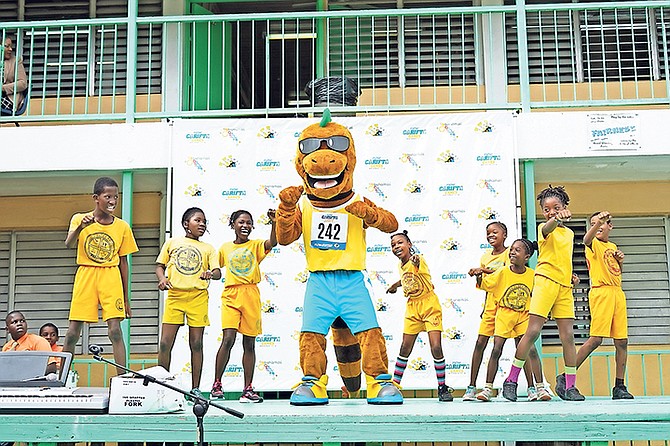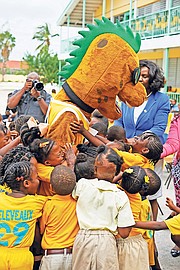 By BRENT STUBBS
Senior Sports Reporter
bstubbs@tribunemedia.net
MEET Iggy, the mascot for the 2018 Flow Carifta Games.
The Local Organizing Committee, headed by its chairman Rosamunde Carey and IAAF Councilwoman Pauline Davis, presented Iggy to the Yellow Elder Primary School during a special assembly on Wednesday. It was the first public appearance of the iguana, a rare species found in the lesser populated islands of the Bahamas mainly in Andros, San Salvador, Inagua and Exuma.
Draped in the Bahamian uniform, Iguana made a grand entrance with eight members of Yellow Elder's track and field team, headed by coach Cedricka Rolle, as they performed to the tune of the "Theme for Rocky." Before he descended the podium and interacted with some of the students, Iggy performed "Watch Me (Whip/Nae Nae)."
In introducing Iggy, Bahamas Association of Athletic Associations' public relations officer Philip Gray said he is a "calm, cool, consistent performer, always hitting the mark at the right time. He is fun to watch as he maneuvers to outwit his opponents. He is a fierce decathlete that is good at every event on and off the track.
"Confident in his movement, he is amusing and witty, out classing opponents and overcoming any challenge. Iggy can be seen all over the stadium wooing the crowd with his presence and feats. Iggy is not only a phenomenal athlete, but has light feet and takes charges on any dance floor."
Gray further noted that Iggy has a "hearty appetite" and stays in shape by feasting on healthy Bahamian cuisine and enjoys "native plants and fruits."
While the visit to Yellow Elder was the first in a series leading up to the Carifta Games, scheduled for March 30-April 2 at the Thomas A. Robinson National Stadium, Iggy's Bahamian personality, who will remain anonymous, said he was thankful to Gray and the team that has allowed him to bask in his glory.
"Iggy is also a world class athlete and a medalist," was how the identified Bahamian projected himself. "I also did Carifta in 2000."
With the games returning here for the eighth time, Iggy said NACAC could not have found a better place to stage the region's biggest junior international track and field meet.
"The Bahamas is definitely the best place to host any international track and field championships or games," he summed up.
Davis, who was identified by third grader Ryannique Smith in a contest by Gray, asked the students to invite all of their family members to come out and cheer on Team Bahamas and to ensure that they bring their junkanoo music to show their support as they chant "Bahamas, Pride Run Deep in the 242."
Smith, one of the students who received a ticket for the games from Gray, said she was delighted to meet the Golden Girl and also Iggy.
"It was a lot of fun," said Smith, an eight-year-old student. "I am glad they came."
Her close friend and classmate Johnique Francois, 9, said she too was excited.
"I want to go to Carifta," she said.
For those who may not get a chance to go, Carey reiterated what Davis told the students about making sure that they eat healthy and exercise so that one day they may eventually get the chance to represent the Bahamas at Carifta in the future.
Carey, Davis (who pulled a muscle) and Iggy got a chance race against some of the students. However, none were able to out-sprint the enthusiastic youngsters, who were eager to display their prowess, just as they did when they rushed to the stage for blow pops thrown out to the crowd by Iggy.