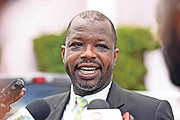 By Morgan Adderley
Tribune Staff Reporter
madderley@tribunemedia.net
ATTORNEY Wayne Munroe said yesterday the government should have been aware it was breaching the law when it fired 30 Gaming Board employees last year, citing an amendment to the Employment Act passed in 2017 by the Christie administration.
Mr Munroe is representing the former employees who are suing the government for wrongful dismissal.
In an interview with The Tribune yesterday, Mr Munroe detailed the charges the former employees are levying against the board, the damages they are seeking and the rights to which other unfairly terminated employees are entitled.
Mr Munroe said: "The first issue is that they were wrongfully dismissed… pursuant to the recent passage of the Employment Amendment Act 2017. (This was one of) the last pieces of labour legislation the PLP passed, where all of the FNM people applauded but said that it came too late. It was said to be specifically in response to the Sandals issue, where Sandals had made persons redundant.
"What that provided was that you cannot make more than 20 people redundant. If you intend to make more than 20 people redundant, you have to go through a process. And that process involves notifying the union as to who you intend to make redundant (and) why you intend to make them redundant.
"(It also requires) at least two weeks before you intend to make them redundant, meeting with the union to openly and honestly discuss whether you should be making people redundant, whether you can redeploy them to any other part of your organisation and if you really can't do that, then suggestions of who can be made redundant and the proper basis for that.
"One of the standard basis of redundancy is 'last in, first out.' So the last person to be hired is the first person to go. And the reason for that is so you do not have an employer simply using redundancy to get rid of higher priced workers who have moved through the system in favour of cheap, starter people. Which, if you listen to what the Gaming Board says, is exactly why they chose senior people to dismiss."
When asked by The Tribune about the lump sums these former employees received, Mr Munroe said: "Well when Sandals terminated their people, they paid everyone generously and Christmas bonuses, but there was still an outcry about that.
"Folks said no, the issue was you ought not be able to make people redundant.
"And in the case of Sandals, they made them redundant because (Sandals was) closing for two or three months to renovate, and then they had a job fair where a lot of them were hired back. So if anything (Sandals') position is better than this government's position because (the government is) not saying they're closing for renovation and hiring anybody back."
Mr Munroe also specified the areas of relief the former Gaming Board employees are seeking. He said: "Wrongful dismissal, which is a classic 'you breach my employment contract'. Unfair dismissal, which is if you terminate someone contrary to the process.
"(Some of them) are seeking reinstatement and they're seeking exemplary damages. (This is) what the Americans call punitive damages, because what the government is saying is it's admittedly breaking the law in order to save money.
"And how the law works is if you admittedly break the law to save money, the court imposes damages to take your savings back from you, as a means of encouraging you to obey the law."
Mr Munroe was asked if this case will pave the way for other people who have been laid off by the Minnis administration to file similar cases against the government.
He replied: "The Gaming Board potentially, because they are a separate entity. So you have places like the Gaming Board, you have (the Bahamas Agricultural & Industrial Corporation), and you have (the National Insurance Board), they're like free-standing corporations.
"So the rule as it applies to the government generally would be if they (wanted) to lay off more than 20 people across the entire civil service, they're not just from any particular department or ministry.
"And so if you stop and think about it, if they let go 10 people from education, 10 people from health, 10 people from environmental services; that's more than 20, the government being their employer.
"And so they should have been in touch with the union or get employee representatives, and discuss the very same thing that they are doing, the Gaming Board."
Mr Munroe continued: "It comes down to people…knowing their rights, and once they know their rights, taking steps to assert their rights. So this law was passed, maybe people don't know about it, or if they know about it for one reason for another they aren't coming forward to assert their rights.
"One aspect of it…might be that people think it's terribly expensive to hire a lawyer to go through litigation. But that would be a lack of knowledge that lawyers do take on matters on a legal aid basis.
"Because for myself, if somebody has a right that is being infringed, and I think that they would be discouraged from indicating it because they think I'm going to charge them a high retainer and all these charges, then I'm duty bound not to do that, not to discourage people from litigating.
"[Additionally], the act doesn't give any period. So when this government came to power saying that it intended to downsize 10 percent across the board, from that moment it intended to terminate, to make redundant, 10 percent of its employees. From that moment, it should have been engaging the union or unions in discussions. Which it didn't, in any case."