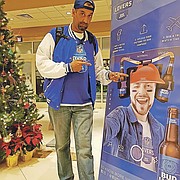 By INIGO 'NAUGHTY' ZENICAZELAYA
I MUST say that I'm stoked as I prepare to head off to Super Bowl 52 (Roman numerals are overrated) in freezing Minneapolis, Minnesota as a Bud Light and Bud Light Caribbean brand ambassador.
I will be broadcasting live from the Super Bowl, back to the huge, most interactive hottest Super Bowl party in the 242, brought to you by Bud Light, Bud Light Carribean, and Jimmy's Liquors.
Currently it's -11 degrees Fahrenheit in Minneapolis as I type this column.
I won't even attempt to lie, I'm a spoilt, living on the equator, Nassau boy, used to plenty of sunshine, and I'm scared of the cold.
I know what snowy 22 degrees Fahrenheit did to me in New Jersey at Giants stadium during the Cowboys vs Giants game. Not a pretty sight.
I don't even watch NHL Hockey because it looks freezing on TV in HD.
This go a round, I must face my fears and 'Jack Frost' straight up.
I can't miss out on the bevy of platinum Super Bowl events and celebrity parties. (Michael Irvin if you are there, our paths will cross again.) Oh, and come Friday night, I'm going to show them how Bahamians go, I'm introducing them to 'toting' at this particular event which I circled already .
7:15 to 10:15 pm -
Chef Experience with Rocco DiSpirito.
That one called 'ova.' Rodney Moncur will be proud of me.
Also not to be forgotten -
8:00 PM – 12:00 AM Bud Light Private Concert with Pink headlining.
DRESSED FOR THE OCCASION
Now, to ensure I don't freeze, I've taken the necessary precautions.
I am fully thermal, 'long John's' to thermal compression socks, and all kind of gloves, scarfs and tams. Also I've gotten an official Mallard feather lined, 'Duck Dynasty' down jacket.
WHO AM I'M
ROOTING FOR?
Okay here's where it's going to get a little dicey, so buckle up.
Much to the chagrin of my fellow Dallas Cowboys here in the Bahamas, I'm rooting for Philadelphia.
Woah, woah not so fast, breath. Don't get your knickers in a knot.
• Here are 3 reasons why I think the Eagles win:
Eagles head coach Doug Pederson is a part of that storied Andy Reid coaching tree. And just like his mentor, if they have an extended period to prepare for an opponent, that opponent is in trouble. The results and victories speak for themselves, regarding Reid and Pederson.
The Patriots are weak against the run. The Eagles will throw, a three-headed monster at them in the form of Jay Ajayi, LeGarret Blount and Wendell Smallwood. Keep an eye on this matchup as it could open up throwing lanes in the passing game for Eagles QB Nick Foles.
I pull for the name on the front of the jersey, not the back. So to this end, due to the fact I conceded to Tom Brady being the GOAT at the QB position, the Patriots tainted organisation, can't get their 6th Lombardi Trophy, all while leap-frogging the Cowboys (5) and 49ers (5) while tying the Steelers for first all time, with their 6th. It just CAN'T happen. So let's go Eagles, 'bout time you got on the board with your first Lombardi, and joined the party in the NFC East, Cowboys 5, Giants 4, Redskins 3. Twelve Lombardis and counting between them. Truly the most decorated division in the NFL.
And finally if my favourite player of all time, the aforementioned Michael Irvin, says all is forgiven to the Eagles fans for cheering as Irvin lay semi-paralysed on that shoddy turf in old Veterans Stadium, with a neck injury.
Then all is forgiven, (until next season)
DILLY DILLY,
PHILLY PHILLY
Let's go Eagles, spare us from another ad nauseam Patriots post Super Bowl victory coverage. We've seen that movie five times before!
It's time for a different plot twist with different actors, and most definitely a new lead actor leading the way.
I'm off to practice my Bud Light drinking exercises, you know I got to be in shape to party at the Super Bowl.
Thanks again to Bud Light, Bud Light Caribbean (Manny Bartolo, gracias hermano) Jimmy's Liquors, the Tribune and Radiohouse for this awesome opportunity. I will enjoy the game to the fullest, regardless of the outcome.
• Naughty presents 'Mischief and Mayhem in da AM' from 6am to 10am, Monday to Friday and 'The Press Box' sports talk show on Sunday from 10am to 1pm, on KISS FM 96.1.
Comments and questions to naughty@tribunemedia.net