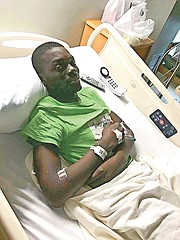 By MORGAN ADDERLEY
Tribune Staff Reporter
madderley@tribunemedia.net
A BAHAMIAN sailor who was reported missing two weeks ago was rescued by the United States Coast Guard on Monday afternoon from a boat taking on water off the coast of Florida.
Baha Mar lifeguard Samuel Leroy Moss Jr, 23, disappeared off the coast of Bimini on January 14.
According to the US Coast Guard Mr Moss was "rescued from a vessel taking on water Monday approximately 10 miles east of West Palm Beach, Florida.
"Watch standers at Coast Guard Sector Miami received a notification from a good Samaritan of a vessel taking on water with one person aboard," the Coast Guard said.
"Watch standers diverted the Coast Guard cutter Cochito crew. They arrived on scene at approximately 3.30pm and medivaced the man via small boat to the Revere Beach fire rescue due to him suffering from a possible chemical reaction. 
"Coast Guard 7th District watch standers confirmed that the man, a Bahamian national, is the subject of a previous overdue case." 
Mr Moss' sister, Samminka Moss, 21, briefly spoke with The Tribune yesterday. She was elated at his rescue but said she had little information at the time about his time at sea.
"All I know is that he was found close to Florida, about 10 miles off of Florida. He is in a hospital in (West Palm Beach, Florida)."
Ms Moss had previously spoken with The Tribune to report her brother's case. She said previously her family was praying to God for her brother's safe return. 
Their prayers have been answered. 
In a Facebook live video which has since been deleted, Mr Moss, while in hospital, briefly recounted his trip. He explained that during his trip, he realised he had issues with his GPS and gas gauge and also encountered rough seas. He said he went on land in Andros, where he encountered wild animals and sought refuge in a tree. He said he fell from the tree and was injured, then left Andros to continue sailing.
In February 2017, Mr Moss was stranded for three days in waters off Grand Bahama. According to Ms Moss, her brother was rescued by the Royal Bahamas Defence Force (RBDF) at the time. 
Ms Moss said during that experience, her brother had no food rations. This time when he left for this trip, she said "he took food and water, sufficient to last him four or five days just in case he got stranded again or in case anything happens."