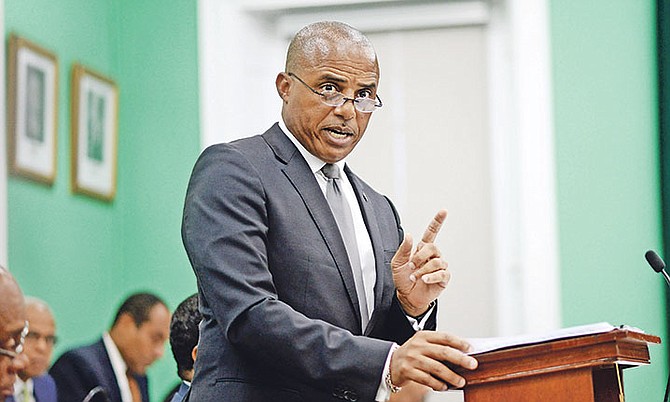 By RASHAD ROLLE
Tribune Staff Reporter
rrolle@tribunemedia.net
National Security Minister Marvin Dames yesterday declined to address the latest fatal shooting by police, insisting such matters are "thoroughly investigated" and put before the coroner.  
He was responding to reporters ahead of yesterday's Cabinet meeting, following the shooting death at the weekend of a man residents say was blind. 
Progressive Liberal Party (PLP) Chairman Fred Mitchell said in a statement yesterday the public should know his party is watching the matters closely and is prepared to intervene in pursuit of justice when necessary.  
The most recent police-involved killing took place on Plantol Street off East Street on Friday, prompting an angry confrontation between police officers and residents. Videos connected to the incidents circulated on social media. 
Mr Dames said: "I don't wish to speak directly to the incident only to say that there is a process any time that there is a police-involved shooting, there is a process that takes place. The coroner is immediately notified and in most instances the coroner is invited to the scene to assess the scene and then go away. The matters (are) then thoroughly investigated and put before the coroner where a determination is made as to whether there is culpability or not."
There have been nine police-involved killings in the past three months, including four this month, according to The Tribune's records. Overall, there were 11 such killings last year. 
Lawyers with the most experience in cases at the Coroner's Court often bemoan the lack of inquests into police-involved killings and their inability to typically secure dates for such matters. However, The Tribune understands that an inquest into at least one police-involved killing is now ongoing. 
Attorney General Carl Bethel said last year the government would implement administrative or legislative fixes to ensure inquests take place as the law demands, though he didn't reveal what steps will be taken. 
Last year he revealed there were 28 outstanding killings for which an inquest must be held. Since then, there have been four more killings.  
In his statement on the matter, Mr Mitchell said: "I discussed the latest killing involving a peace officer in the context of the ubiquitous sharing and commentary of the video clips of the incident as alleged with my colleagues. We are always concerned about justice and social order. I know also as a matter of law not to prejudge without hearing the other side.
"The response on all of these occasions has been anger in the neighbourhoods. I was concerned when the AG seemed helpless to move the backlog. I am aware of a former constituent in Fox Hill, a mother, who is still grieving in the death of her son by a peace officer and she alleged that the hearing of the coroner was convened without notice to her.
"Put all these ingredients together with the powder keg on the other side where the society is anxious that someone stop the random and senseless killings by criminals and it's quite a cauldron. The public should be assured that we in the PLP are watching these events very closely and will intervene when and if it becomes necessary in the interest of justice.
"The country's reputation for the rule of law must be preserved and we want the police to act within the law and at the same time for crime to be abated. We have an active watching brief at a very delicate time in our country's fight against crime. Bottom line, the AG must get cracking and have these coroner's cases resolved forthwith or risk undermining respect for the process."
Yesterday, Mr Dames also commented on a video of an arrest that circulated on social media this week, showing a man in handcuffs being hit by an officer as he appeared to resist walking with police.
"Well again there is a process," Mr Dames said. "What you saw was a clip. You didn't see the incident in its entirety so I will not speak to the incident itself, only to say this: When persons are aggrieved there is a place that they can go to voice their complaints to make an official complaint.
"(None) will be turned away and as I said before the matter will be investigated thoroughly and then a determination will be made as to whether the officers are at fault."
When asked by reporters if he viewed the clip, Mr Dames replied: "Of course I looked at it. Are there some concerns? Well, I don't know the matter in its entirety and I think we have to be careful that when we see a brief clip of something we don't jump to conclusions, assuming that the police would have done something terribly wrong, ok." 
Mr Dames also reiterated the Royal Bahamas Police Force (RBPF) is instituting systems to boost transparency. This includes an independent internal review board and a body cam programme, currently in its pilot stage.
He said he hopes the body cam project will be fully implemented this year.