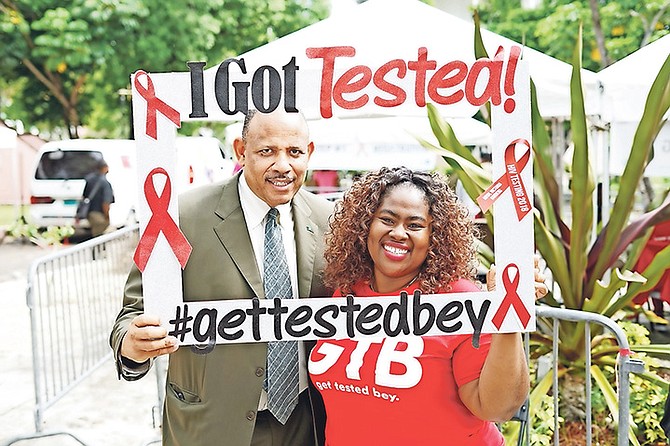 By RICARDO WELLS
Tribune Staff Reporter
rwells@tribunemedia.net
BAHAMAS Christian Council President Delton Fernander said the organisation will not challenge Health Minister Dr Duane Sands over any plans to provide free contraceptives for students.
In an interview with The Tribune yesterday, Mr Fernander insisted that both the church and government had roles to play in the push to eradicate the spread of HIV.
He noted that while the church's collective message continues to be abstinence, his organisation does not intend to take on an adversarial position to Dr Sands' stance.
"The church, through the council, has been committed with UNESCO to do its part in the fights against the spread of HIV," Bishop Fernander said.
"I don't know if he was aware of that, but we have been doing a lot of work here and home and throughout the region to aid in this message.
"Our position is abstinence and we will not move away from that, but in a fight this big, we all have roles to play.
"Obviously, from a counselling standpoint, there is an age at which you can't start to present sexual education and the availability of condoms.
"But we are not going to lecture the government on this. We are committed to doing our part, and it seems that the government is committed to what they have to do."
At an HIV testing event on Friday, Dr Sands said the country is living in a "bubble", where Bahamians "pretend like they don't have sex", and if they do, they act as if "it's always responsible or protected".
"We see a significant number of teen pregnancies, and we're not only seeing HIV, but syphilis, gonorrhea, chlamydia, herpes and other sexually transmitted infections," he said.
Dr Sands added that he believes a revamped approach to HIV prevention and treatment inclusive of sex education and free contraceptives for students is "the way to go".
The minister also said the "social approaches" employed over the last decade need to be "revisited" and assessed "critically" to be brought in line with reality.
"Sex education in schools? Absolutely. Availability for condoms in schools for free? Absolutely," Dr Sands said last week.
"When we start to get into what exactly we do in the schools and how we liberalise access to birth control and other types of family planning tools, it is really going to get hot because you're going to buck heads with a number of individuals who feel that maybe we're pushing an agenda which is going to encourage promiscuity," he explained.
Earlier this year, it was reported The Bahamas was ranked as having the highest prevalence of HIV in the world outside of Sub-Saharan Africa.
According to the "Global AIDS Monitoring Report: 2017", released by the Ministry of Health, at the end of 2015, 8,667 people were listed as living with HIV in The Bahamas.
"This means that roughly one in 50 persons in The Bahamas in 2015 was HIV positive," the report says.
However, that same year 226 people were diagnosed with HIV - a 43 percent drop from 2006, when 396 people were diagnosed.
Despite the drop, The Bahamas still ranks 17th in the world for HIV/AIDS adult prevalence rate, according to statistics by Index Mundi.
This puts the country below states such as South Africa (four), Kenya (12) and Tanzania (13) but above Rwanda (20) and Nigeria (21).
The Bahamas also has the highest rate in the region.