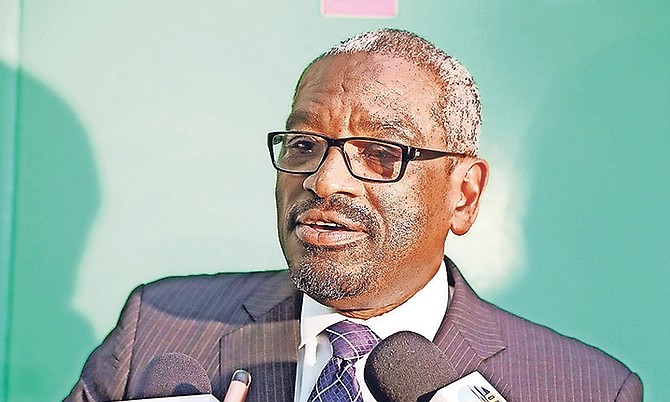 By KHRISNA RUSSELL
Deputy Chief Reporter
krussell@tribunemedia.net
PRIME Minister Dr Hubert Minnis is still not ready to reveal who will be appointed substantive chief justice, telling reporters yesterday Bahamians will know "with time" who will fill the post.
Despite failing to name an appointee for the last several months, Dr Minnis conceded "we cannot function without one" when he was asked whether someone will be named in light of his decision to shuffle some Cabinet posts.
The last substantive chief justice was Sir Hartman Longley, appointed in 2015. Stephen Isaacs was sworn in as acting chief justice last December.
"You would know with time. When that is done, Cabinet Office will release a statement," Dr Minnis said yesterday.
"We cannot function without one. We will have a chief justice and one will be appointed, but you will know when Cabinet issues the appropriate statement."
Dr Minnis has been heavily criticised over his failure to fill the post.
However, in April he said he would not be forced to appoint a Chief Justice and neither was he concerned about losing political capital over it.
As the appointment continues to be delayed, it has been speculated that Attorney General Carl Bethel was being considered for the post of chief justice.
However, officials in the Minnis administration have dismissed the idea that he could be appointed.
Bahamas Bar Association President Kahlil Parker has publicly castigated Dr Minnis over the issue.
In April, Mr Parker told The Nassau Guardian that Dr Minnis has a "tremendous misapprehension" of the constitutional provisions relating to the appointment of a chief justice, adding the prime minister did not appear to grasp firmly the Constitution as a whole.
This came after Dr Minnis suggested the Constitution provided a certain time frame for him to fill the post and claimed he was within that timeframe; however, The Tribune was unable to find such a clause.
Earlier this year, Dr Minnis became defensive on the issue after repeated questioning by the media at a press briefing on his return from England, asking reporters whether they would prefer he prioritised the matter over other national issues such as a recent blackout threat by Bahamas Power and Light unions.
Dr Minnis said on April 22: "At this point in time I'm trying my best to improve the Bahamian economy, improve the quality of life for everybody, you just told me about BPL possibly turning off lights - that is more important to me, so those are matters I will tackle first."
When asked if his statement implied he did not consider making a substantive appointment a priority, Dr Minnis replied: "Let me ask you a question, which is priority to you, your light going off or you getting a CJ, which one is more important to you?
"I know what is more important to me," he added, "the light is more important to me. What is more important to you?"
He shrugged off one reporter's attempts to raise concerns made by the legal fraternity, saying: "No, take that out of the question, you would prefer your light being off or me taking all resources and dealing with it, which is more important to you?"
When asked who was advising him on the Chief Justice matter, Dr Minnis had previously said: "I have the whole Attorney General's Office, I have my Cabinet."