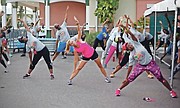 This summer, Solomon's Yamacraw customers will shake, dance and move their way to a healthier physique during the store's first Summer Slimdown Challenge. The company is teaming up with Jay Fitness 242 to launch the competition with a live Junkanoo aerobics session in the store's parking lot on Saturday, July 7, at 7am. The three-part competition will continue on Saturday, August 4, and Saturday, September 1.
Parent company AML Foods said this initiative is geared towards demonstrating how the proper physical exercise along with a balanced diet can result in healthier living.
Local fitness coach and trainer Donavan "Jay" Rolle, owner of Jay Fitness 242, will lead the hour-long cardio sessions at Solomon's Yamacraw just opposite St Andrew's School. Customers will also have an opportunity to learn more about meal planning and nutrition from the Solomon's team to help them on their journey towards overall health and well-being.
Speaking about the new partnership with Jay Fitness 242, Shekia Albury, marketing manager for Solomon's and Cost Right, said this fitness challenge is another opportunity for the brand to educate and engage persons in the community.
"We are constantly seeking ways to better the communities that we serve. Hosting an event like the upcoming Summer Slimdown Challenge at our newest retail outlet in Yamacraw is an extension of our overall goal of promoting health and providing opportunities for customers to learn," said Ms Albury.
"Exercise can sometimes be daunting for persons particularly at the beginning of the fitness journey. We want our shoppers to have the tools needed to assist them on their wellness journey. And we want them to have fun in the process of improving their health. We're also encouraging persons who would simply like to enjoy the workout without participating in the challenge to come out to any of the three Saturday Junkanoo aerobics sessions that we have scheduled."
To register for the Summer Slimdown Challenge, fill out an entry form at the customer service desk at Solomon's Yamacraw before Saturday July 7. The event is free and is open to the public. Challenge participants will be weighed in at each session and must complete all sessions in order to be entered to win the grand prize of a $300 shopping spree. Winners will be chosen at the end of August.