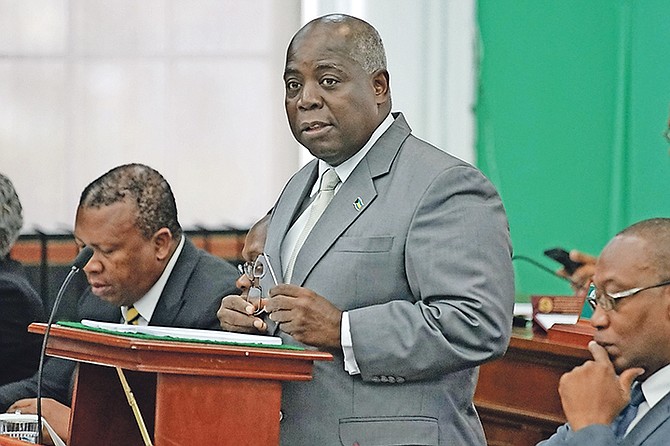 By KHRISNA RUSSELL
Deputy Chief Reporter
krussell@tribunemedia.net
LABOUR Minister Dion Foulkes' admission that there will most likely be challenges finding rental properties in Abaco for evicted shanty town residents proves there is a lack of planning and vision by the government, according to Official Opposition Leader Philip "Brave" Davis yesterday.
The Progressive Liberal Party's leader said when it comes to cracking down on shanty towns, the government has only sought to say the things Bahamians might want to hear without regard to actually carrying out the plan effectively.
On Saturday, Mr Foulkes told The Tribune with only few rentals available in Abaco, efforts could be complicated. He spoke shortly after the Shanty Town Action Task Force completed assessments on that island.
Responding to questions from this newspaper on the matter, Mr Davis suggested he has yet to understand the full gambit of the government's plans when it comes to the shanty town issue.
The government has implemented a July 31, 2019 deadline for its regulation effort in Abaco. It has a July 31 deadline of this year for New Providence shanty towns.
Last week, officials in New Providence began issuing the first round of notices to shanty town residents, giving them the opportunity to show proof of their legal right to live in their residences.
"We have been there and done that," Mr Davis said in response to a question from The Tribune during a press conference at PLP headquarters. "First of all, again their latest response speaks to their lack of vision and planning.
"We continually remind and say to the Bahamian public that these persons who are elected without a plan or vision and it's being manifested daily. You plan to rid yourselves of shanty towns. What would have been the consequences of that? You are displacing people. I think the word to use is gentrification.
"Now don't you think that if you are going to rid yourselves of shanty towns there would be an alternative plan in place for persons who might be displaced by that? And what are those plans? Are the plans to identify persons who are not documented (and) dealing with those who are documented?
"Because I have visited the shanty towns for example in Abaco and you would find that perhaps more than 80 percent of the persons living in shanty towns are persons holding Bahamian passports. So where are they going to go?
"So again, it just demonstrates their lack of planning, lack of vision and not properly planning things and just trying to adopt what I call news clips."
Asked if he believed the government's deadline was ambitious, Mr Davis stated he could not say.
"It feeds right back into what I said. If you fix deadlines one would have thought that you would have a plan, that you would have a vision. You fix a deadline without understanding what are the consequences of your actions.
"So, I cannot say whether it is ambitious or not ambitious because I could address whether it was ambitious if I knew what their plans were, if I knew the full gambit of what their vision was in respect to the consequences of their actions.
"So again, what has to happen is you can't just engage in political machinations and think it is popular to say I'm going to get rid of shanty towns, but then at the end of the day could you effect that statement?"
A 2013 report compiled by the former Christie administration noted that there were some 1,200 homes spread across The Mudd, Pigeon Peas and The Sandbanks communities in Abaco. On Saturday, Mr Foulkes said he feared that number may have increased in recent years.
In addition to that, he said expansions in several other smaller communities around the island had now grown into major concerns.
Asked whether the government would absorb the cost for supplying affordable housing, Mr Foulkes insisted the government has no intention of "spending any money".
Mr Foulkes said the next step, expected to start next week, will be another notice requiring people who do not have a legal right to live in their homes to move.