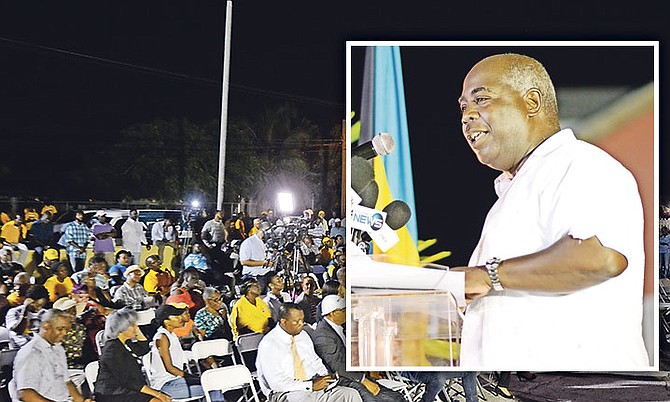 By Rashad Rolle
Tribune Staff Reporter
rrolle@tribunemedia.net
TAKING his criticism of the Minnis administration outside for a Progressive Liberal Party (PLP) rally last night, Opposition Leader Philip "Brave" Davis hit Prime Minister Dr Hubert Minnis for showing a "selective adherence (to) the Westminster system".
He was referring to Dr Minnis' decision to fire Travis Robinson, Vaughn Miller and Frederick McAlpine from their government posts for opposing an increase in value added tax last month.
Mr Davis hit on familiar themes for the PLP during the speech, attacking the FNM's supposed hypocritical talks about corruption while characterising the administration as unconcerned with the social welfare of Bahamians.
He claimed that Dr Minnis had told Parliament of an intention to sign a $5.5bn oil refinery deal with Oban Energy in the full knowledge that a deal had already been signed.
He said: "Why he misled Parliament? According to the Westminister system, to mislead Parliament is a grave and serious offence. And Minnis ought to have resigned. He never did! But all of a sudden backbench MPs have to go?"
Mr Davis faulted the way the administration applied the whip during the VAT vote.
"The prime minister should know that the Westminister system is a designed model of conventions and unwritten rules. And it is best served when the government elected to manage this system serves the nation in the spirit of honour and integrity. And so, if the whip is on as in this case with the 12 percent VAT increase presented in the fiscal plan of the Government, it was the duty of the prime minister to caucus and huddle with his MPs and inform them of the government's plan to tax the people.
"Minnis never did that. According to sitting FNM MPs, they were never consulted. Nor were there any arrangements on how to avoid the firings, which unfolded following the subsequent to the vote."