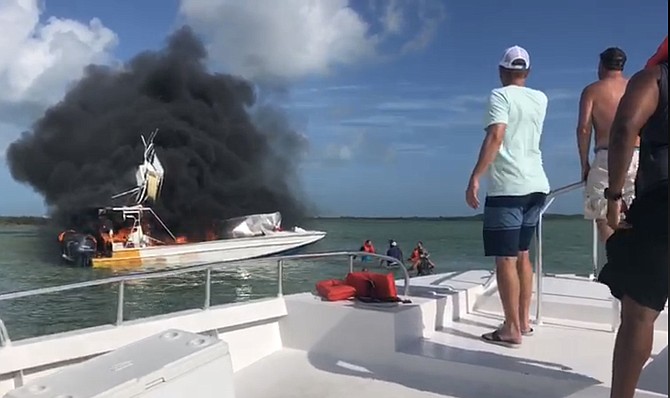 By AVA TURNQUEST
Tribune Chief Reporter
aturnquest@tribunemedia.net
FOUR C's Adventures has returned more than $20,000 in cancelled bookings since it was ordered to cease operations following a deadly explosion on its tour boat in Exuma, The Tribune was told.
Attorney Elliot Lockhart, QC, said his client, Four C's owner Clayton Patterson Smith, faced possible criminal charges and civil litigation but vowed he would defend his position that the fatal incident was a "purely unfortunate accident".
However, Mr Lockhart also insisted yesterday based on his investigations on the island and with the boat's captain, he strongly believes there is a possibility the boat may have been sabotaged.
"I spoke one on one with the captain of that boat," Mr Lockhart said. "I can only conclude if this is not where he struck something in the water, then somebody sabotaged this boat.
"Patterson Smith developed an entire business of going to see the (swimming) pigs, and the Exuma community and certain outside entities are now tapped into that. Boats are going everyday but it was Patterson Smith's brain child. He came out of jail in Cuba, came home, designed this business. He is responsible for building his own vessels. Pat built those boats and designed his business and this is the first incident, he's had many, many successful runs. This is a purely unfortunate accident."
Mr Lockhart continued: "They shut down Pat's business. Up to today, he has returned an excess of $20k because other operators can't handle all of his clientele."
Four C's, the island's largest tour operator, was issued a cease and desist order on Sunday, mandating the company suspend operations pending results of an investigation.
The accident killed one American woman, caused her husband to have a leg amputated and caused another passenger to lose both of her legs and injured nine other people on Saturday.
Acting Port Controller Commander Raymond King confirmed during a press conference on Monday that no engine on the vessel exploded despite initial reports from the Royal Bahamas Police Force.
Yesterday, Mr Lockhart said the blaze melted the boat's metal like candle wax, adding the damaged site appeared to have imploded from the inside out.
"The boat had all inspections, plus insurance, plus operations with respect to that boat and others he built, none of them ever exhibited any problems," the attorney said. "Two minutes into the half day trip, (there was an explosion). Having seen that boat, it appeared like a candle wax melting, the fire melted the aluminium like candle wax.
"I suspect because of the jealousy going around among operators, the only explanation that I have been able to come up with, that the builder has been able to come up with, and others that know about boats and building boats, is that someone put some kind of explosive device on boat and blew a hole. In an area where there is no gas tanks, no electric wires, it blew from the bow.
"The captain told me the floor peeled up like when you open a can of sardines and he immediately sought to account for all souls," Mr Lockhart added. "They went back after the mother said her child was missing, and the child was trapped and critically injured. They had adequate life jackets, adequate fire fighting equipment, and I have in my possession a report from the marine surveyor before it was commissioned that it was in good order.
"There was no engine fire, the engine caught after the boat burned from front to back. Mr Patterson had his son, less than 9 years old on that boat, you think he would be in a situation to cause harm and his son is on the boat?
"It has to be sabotage," Mr Lockhart added, "and if it's not then a freak accident."