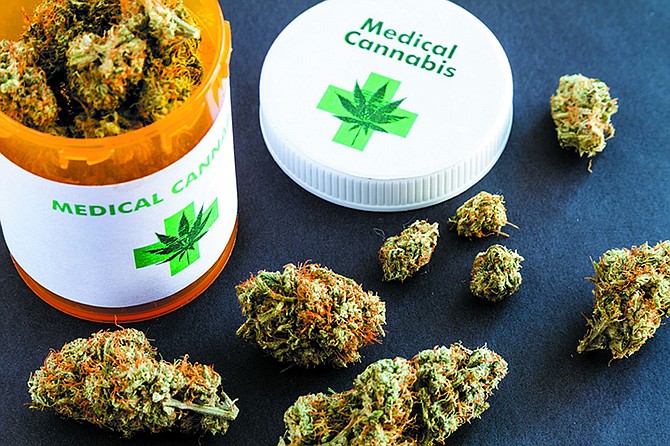 Reader poll
679 total votes.
By AVA TURNQUEST
Tribune Chief Reporter
aturnquest@tribunemedia.net
A RECENT Public Domain survey has found overwhelming support for medical marijuana among Bahamian residents across demographics of age, gender and income.
Seventy-one percent of 998 residents surveyed said they believed marijuana should be legalised for medicinal purposes, and of those aged 55 and older, 179 people, 59 percent supported legalisation.
Respondents ranked marijuana as the least harmful substance in comparison to tobacco, alcohol, and sugar, across the board.
However, 47 percent of residents strongly agreed that the legalisation of medical marijuana will lead to an increase in recreational use.
Public Domain president M'wale Rahming said he was shocked by the findings, which indicated there were high levels of awareness and acceptance of this form of treatment among Bahamians.
Ninety percent of residents had heard of medical marijuana, and 66 percent believed adults should be able to use marijuana as part of a medical treatment plan if recommended and supervised by a licenced doctor.
Sixty-two percent of residents strongly agreed marijuana has medical benefits; however, 40 percent said they strongly agreed medical marijuana is addictive with the highest percentage of persons holding this belief in the 35 to 54 age bracket.
Mr Rahming said the report was commissioned for Bahama Cann, a non-profit organisation formed to educate the Bahamian people on the benefits of medicinal marijuana.
He stressed respondents were not asked about "recreational marijuana or about decriminalisation but just attitudes toward medicinal marijuana only."
The Tribune reached out to the organisation but did not receive a response up to press time.
"The findings show 60 percent of Bahamians know someone suffering from illness, a debilitating medical condition," Mr Rahming said. "That shocks me, in addition that they believe it (medical marijuana) should legalised.
"Only 21 percent say no. The eight percent that are unsure, I think that means they can be convinced if you give the right education so that's almost 80 percent of Bahamians - that's shocking to me."
Residents were selected randomly and interviewed by telephone between June 1 to 14. The data was weighted to represent the population on the basis of age and gender based on the 2010 census. It also includes a breakdown by income category.
More than 70 percent of respondents lived in New Providence and owned their own home, with forty-two percent of residents describing their household make-up as a couple with children. Fifty-four percent of residents said their household included members under the age of 18.
Forty percent of residents were high school graduates, 28 percent were college graduates, and 11 percent held a masters or graduate degree. Fifty-three percent of residents were employed full time, and 17 percent were self-employed.
Eighty percent of men and 63 percent of women interviewed supported legalisation, other categories that featured high support included persons in the 18 to 34 age bracket, 79 percent, and residents in the $30,000 to $60,000 income bracket, 81 percent.
Most respondents indicated their primary source of information about medical marijuana came from the internet, 58 percent, with television as the second highest source at 25 percent. Only one percent of respondents said they obtained most of their information from medical journals or research articles.
On Tuesday, representatives of the Bahamas Cannabis Research Institute (BACARI) Foundation met with Minister of National Security Marvin Dames. This group is different from the organisation which commissioned the Public Domain survey.
That same day, Mr Dames told media outside Cabinet the debate over drugs and the legalisation of marijuana was timely and part of a wider global movement.
"The Cabinet has yet to discuss this issue at this point," Mr Dames said on Tuesday, "and so we will be guided by what we would do as a Cabinet, of course, and so but we have yet to speak to it.
"This is the way the world is headed. We can't ignore it, you know? There are, I mean, many studies being conducted around the world on the medicinal use of marijuana and how it is reaping positive results. But we have to look at this from a holistic perspective, and as we move towards, you know, getting the debate going, we have to look at all sides of the issue...as a government, we're not going to rush into it."