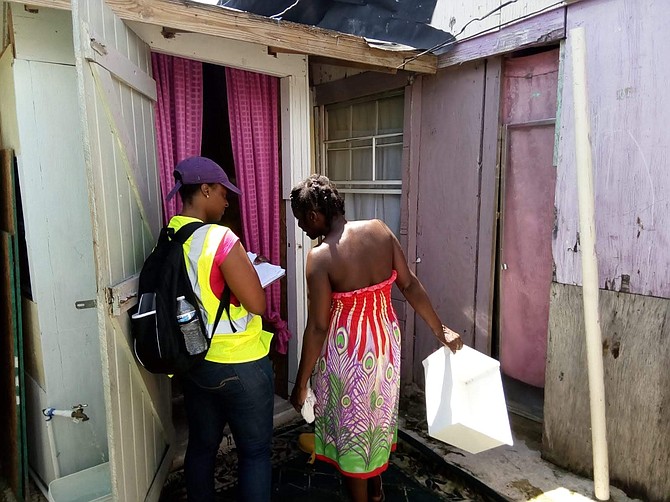 By RICARDO WELLS
Tribune Staff Reporter
rwells@tribunemedia.net
THE government's continued refusal to consult "real" stakeholders will restrict any success its shanty town surveys could have, activist Louby Georges claimed yesterday.
Mr Georges feels the Shanty Town Action Task Force has not fully engaged stakeholders but has included a select group of pastors, undercutting the project.
Mr Georges said as a result, the genuine reality of the lives of shanty town residents are not being portrayed to the people that need to know.
"What the government continues to do is call on a handful of Haitian pastors who are going to say 'yes' to them anyway," he said. "They are going to say 'yes' because they want to continue enjoying whatever perks they enjoy."
Mr Georges, referring to the Abaco Association of Haitian Pastors, suggested aspects critical to resolving the legacy problem of shanty town communities in Abaco are being ignored.
"The people have been crying," he said. "I've seen concerns. What will happen to the people?
"They are being forced out. You understand me? They are being forced out. We are not hearing anything about a plan," he continued.
"What is the plan? The plan cannot simply be to tell people to get out."
He told The Tribune residents in the communities being targeted for demolition by the government are being "exploited" in their day-to-day activities and are not able to vacate the communities they now call home.
"You are talking about people, yes who may have work permits, but who are being exploited," he claimed.
"Persons who are not being paid minimum wage. Persons whose NIB, National Insurance isn't being paid on their behalf.
"They cannot really go and complain or they fear complaining. They fear reporting their employers because those are the individuals who are signing off on their work permits, allowing them to have a job and be in the country legally.
"So we need to take these things into consideration," he said.
"We also need to take into consideration the fact that the Haitian government and the Haitian Embassy has some major issues, some major problems in terms of issuing passports to its nationals."
Mr Georges said activists feel the government is not aware or doesn't care about these critical factors.
"We feel as if no proper consultation was done by the government with the real necessary stakeholders, or with stakeholders or persons who were concerned whom actually have some experience or some knowledge or some background in these sort of works."
Last week, prominent attorney and human rights activist Fred Smith said the government's task force never showed a will to "work with residents".
"I was a member of the board when it was started, I was invited to be a part of it. All that was discussed was destruction. Once that was made clear, I resigned," he told The Tribune. He has threatened to sue the government over its plan to evict residents who do not have a legal claim to live in shanty town homes.
A 2013 report compiled by the former Christie administration noted there were some 1,200 homes spread across The Mud, Pigeon Peas and The Sandbanks communities in Abaco. On Saturday, Labour Minister Dion Foulkes said he feared that number may have increased in recent years.
In addition to that, he said expansions in several other smaller communities around the island had now grown into major concerns.
The government has implemented a July 31, 2019 deadline for its regulation effort in Abaco. It has a July 31 deadline of this year for New Providence shanty towns.
Last week, officials in New Providence began issuing the first round of notices to shanty town residents, giving them the opportunity to show proof of their legal right to live in their homes.
The government plans to demolish these unregulated communities.