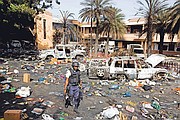 By AVA TURNQUEST
Tribune Chief Reporter
aturnquest@tribunemedia.net
AS civil unrest unfolded in Haiti over the weekend, Prime Minister Dr Hubert Minnis said local law enforcement agencies were put on alert for a potential uptick in illegal migration.
Violent protests raged in the capital Port-au-Prince for a third day over double-digit fuel prices set by the government on Friday, according to Reuters, which reported yesterday that anger over the increase had not lessened despite a temporary suspension.
Dr Minnis told media on Saturday the Department of Immigration, police and the Royal Bahamas Defence Force had mobilised teams to address any influx of Haitian sloops.
He warned Bahamians not to hire illegal immigrants as the Immigration Department has been instructed to arrest and prosecute employers who engage undocumented migrant workers.
Dr Minnis said: "And I ask all Bahamians who may have vessels or (are) involved in the maritime industry, for them to monitor our waters as to avert any increase in Haitian migration to our shores. I've also spoken to the commissioner of police who will offer assistance to both immigration and (the RBDF) so our nation will be prepared in the event there is an increase in Haitian movement from Haiti because of the unrest.
"I will urge Bahamians again, individuals seek different countries looking for employment. I urge them again do not employ individuals who are illegal within our shores. I've already informed the Immigration Department to be very vigilant and any Bahamian who is hiring an illegal immigrant, that Bahamian is to be arrested and taken before the courts and the same will apply. We will protect our borders and we will protect jobs for our people.
"So, we will be very aggressive on that," he said.
On Saturday, Dr Minnis said he did not expect the unrest to intensify but noted he was in talks with the American government, which was also monitoring developments with a view to ensure protection of its citizens.
According to Reuters, Prime Minister Jack Guy Lafontant announced a temporary suspension to the price increases for gasoline, diesel and kerosene on Saturday afternoon. The decision to raise prices was reportedly part of an agreement with the International Monetary Fund, which called for a range of austerity measures.
On Saturday, Bahamasair moved to temporarily suspend all flights into Haiti citing civil unrest and concern for the safety of passengers and crew.
The airline said it will only resume service after it was satisfied there was no threat. Bahamasair flew its inaugural flight into Haiti in January last year.
"I can assure the Bahamian people that our staff personnel are safe," Dr Minnis said.
"The problem that Haiti had faced in terms of the gas prices being increased by anywhere from 37 to 51 percent, they have reversed that, therefore both ourselves and the Americans feel that the matter would be resolved however in the event it's not resolved, we have been in communication with the Americans, we will continue our discussions so that our people will be safe at all costs with the assistance of the Americans."