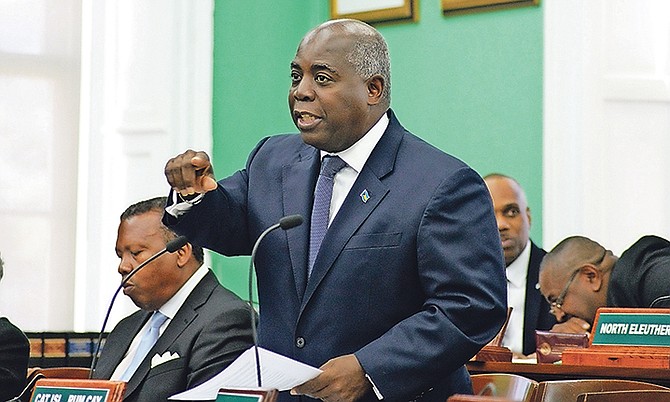 By KHRISNA RUSSELL
Deputy Chief Reporter
krussell@tribunemedia.net
AS debate on legal marijuana use rages in the country, the Progressive Liberal Party is proposing the appointment of a review panel to make recommendations on the issue.
In a brief statement Monday, Opposition Leader Philip "Brave" Davis said his party sympathises with those who have been affected by the country's anti-drug laws.
During the 39th meeting of CARICOM Heads of Government last week, a report calling for the end of prohibition of the plant was discussed.
Recently, a Public Domain poll said 71 per cent of 998 residents surveyed believed marijuana should be legalised for medicinal purposes, and all respondents ranked marijuana as the least harmful substance by comparison to tobacco, alcohol, and sugar, across the board.
"The PLP takes note of the recently released unanimous report on Marijuana in the CARICOM region of which we are a part that was presented at last week's Heads of Government meeting in Montego Bay," Mr Davis said. "The PLP also takes note of the widespread public interest in this matter both for medicinal and recreational use. We propose forthwith to appoint our own review panel to make recommendations on this.
"We sympathise with those who have been disproportionately affected by the anti-drug laws, particularly our young people and those who are in need of medical marijuana to obtain relief."
This comes as Prime Minister Dr Hubert Minnis on Saturday gave tacit support for the medical and scientific use of marijuana. However he told reports his personal views will not supersede a widespread public education campaign.
Dr Minnis said the government will establish a committee to host town meetings and focus groups on the issue. He said once the public's stance is gleaned, the matter will be brought to Parliament for debate and "the people" will make a determination on the way forward.
The nation's leader addressed reporters at the Lynden Pindling International Airport on his return from the CARICOM Heads of Government meeting.
He said he preferred the scientific name "cannabis" as the world was moving away from colloquial use of the term "marijuana". Marijuana refers to the dried leaves, flowers, stems, and seeds from the Cannabis sativa or Cannabis indica plant.