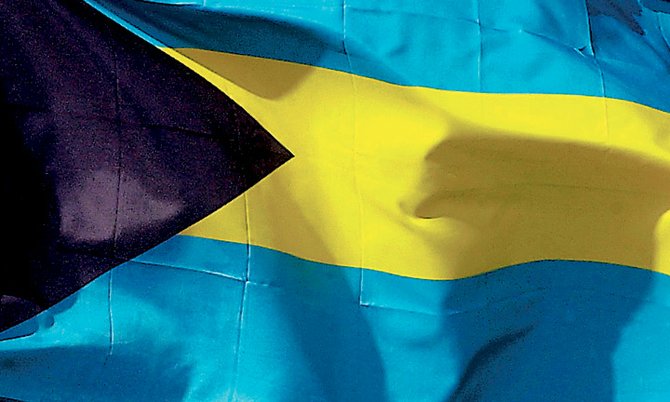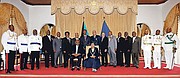 THE first recipients of the country's National Honours were announced yesterday, with the top honour of the Order of National Hero awarded posthumously to Sir Lynden Pindling, Sir Roland Symonette, Sir Milo Butler and Sir Cecil Wallace-Whitfield.
The Order of the Nation was bestowed on 12 people, including: Prime Minister Dr Hubert Minnis; former Governors General Sir Orville Turnquest; Dame Ivy Dumont; Arthur Hanna; Sir Arthur Foulkes; and former Prime Ministers Hubert Ingraham and Perry Christie. It was awarded posthumously to Sir Milo; Sir Gerald Cash; Sir Henry Milton Taylor; Sir Clifford Darling and Sir Lynden. This honour can be bestowed on all persons who have been appointed governor general or elected prime minister.
The Order of the Bahamas, conferred on any citizen who has achieved outstanding distinction and given exemplary service, was awarded posthumously to Dame Doris Johnson and Dr Myles Munroe.
The Order of Distinction has three ranks of membership: companion, officer and member. Persons who are given this order are recognised for exemplary service provided to the country.
Former Deputy Prime Minister Cynthia "Mother" Pratt, Anita Bernard and Tribune Publisher/Editor Eileen Carron were awarded the rank of companion. Officers are Merceline Dahl-Regis; Dr Elwood Donaldson; Lowell Mortimer; Barry Rassin; Sandra Dean Patterson; and Patrick David Roberts, while William Sands received the honour of Member of the Order of Distinction.
The final honour, the Order of Merit, is given to any Bahamian citizen who has achieved eminent national or international distinction in science, education, public service, the arts, literature or any other endeavour.
Reverend Sebastian Campbell and Pauline Davis-Thompson have been given the rank of companion under this order; Monsignor Preston Moss and Rev Dr J Emmette Weir were honoured under the rank of Officer and Rev Ervin Clarke; Rev Dr Gary Curry; and Rev Walter Hanchell were honoured as Members of the Order of Merit.

These awards will be presented on National Heroes Day, October 9.
Queen's Honours
The recipients of the 2018 Queen's Honours, who were first announced in January, were honoured during a ceremony at Government House on Monday.
During the event, Dr Minnis congratulated those who have received Queen's Honours this year.
"These honours have been bestowed in recognition of the tremendous, and stellar contributions, of these citizens to our national development over many decades," Dr Minnis said.
"These contributions have been made in myriad areas including: commerce, public service, the arts, medicine, religion, community service, civil society and other areas of national endeavours."
He also said: "A nation's wealth and well-being must equally be measured by the quality of service, and generosity of its people, in the promotion of the common good, and in the fostering and development, of the talents of citizens and residents.
"We are blessed to have so many Bahamians who have contributed to the common good by rendering service toward the charitable, cultural, athletic, artistic, political, governmental, commercial and social development of our country.
"In honouring those who served with distinction; we offer current and future generations fine examples of national and community service."
As reported earlier this year, Mark Holowesko, Lawrence Cartwright and Rev Dr Ranford Patterson received the Companions of the Most Distinguished Order of St Michael and St George (CMG), awarded to those who have given important service in the Commonwealth and foreign countries.
Antonius Roberts, Dr Robin Roberts, Pastor Rex Major and David Thompson received the Most Excellent Order of the British Empire (MBE), an order of chivalry.
Those appointed as Members of the Most Excellent Order of the British Empire for outstanding service to the community include: Elma Garraway; Nancy Kelly; Nigel Lewis and Dr. Jonathan Rodgers.
The British Empire Medal recognises "meritorious civil or military service."
The recipients of the BEM this year include: Ronnie Armbrister; Willis Bain; Llewellyn Cartwright; Kendal Culmer; Elisha Miller and Quintin Woodside.
The Queen's Police Medal is awarded to police officers for distinguished service or gallantry.
This year, Commissioner of Police Anthony Ferguson has been awarded the QPM.