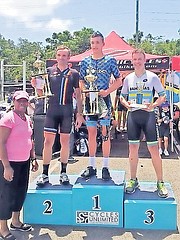 By BRENT STUBBS
Senior Sports Reporter
bstubbs@tribunemedia.net
AS the Bahamas Cycling Federation honoured one of its former competitors/executives, one of the future stars emerged as the champion of the 45th Independence National Cycling Championships Road Race.
The gruelling 74.1 mile race held around the western end of the island on Sunday was named in honour of the late Keith Lloyd, who passed away as he celebrated his 50th birthday on November 11, 2017 at his home. His wife, Petrell, along with his children, Keith Jr, Keitra and Keiron, were all on hand for the special occasion.
As for the overall race, Liam Holowesko also had his family present as he sped away with the coveted title, clocking three hours and 14 minutes and 44 seconds to hold off veteran Lee Farmer, who was second in 3:17.21.
Chad Albury, another seasoned competitor, came in third in 3:17.23.
Rounding out the top 10 in order were Kelly Kramp (4th), Randall Underwood (5th), Mark Holowesko (6th), Patrick Paul (7th), Felix Neely (8th), Lorin Sawyer (9th) and Corey Pinder (10th).
Federation president Roy Colebrooke said the event turned out to be another exciting competition on and off the race course, based at the Clifton Heritage Park.
"I think it was a great event. We had a multitude of competitors who participated and spectators who showed up," Colebrooke said. "What was also very great was the amount of Family Island support that we got from Spanish Wells, Grand Bahama and Exuma to participate. I think that speaks volumes about where we are headed."
Colebrooke said the federation was delighted to join with the New Providence Cycling Association, headed by Barron 'Turbo' Musgrove, in recognising the late Lloyd for his contribution to the sport as one of the top competitors during his heyday before an injury forced him to continue to assist the sport as a treasurer and organiser of many of the sporting events.
"In honour of his great work with the federation, we decided to name the race in his honor," Musgrove said. "We thought the whole day went very well and so we want to thank Keith's family for being there and participating in the tribute to their husband and father. He made a lot of contributions and we just wanted to say thanks in a tangible way."
And despite his departure, Musgrove said the future looks bright for the sport with their rising young star in Liam Holowesko, the 17-year-old phenom, who won his first national title at the age of 13 in 2014.
• Here's a look at the divisional winners in the nationals:
Senior 1 - Liam Holowesko, Lee Farmer and Randall Underwood
Senior II - Patrick Paul and Giles Sawyer
Masters III - Kerdero St Cry and Justin Higgs
Masters IIII (l4b laps or 22.8 miles) - Claude Robert, 1:21.02; Van Demeritte, 1:22.30; Alexander Bain, 1:32.40
Elite Masters - Kelly Kramp, Mark Holowesko and Randall Underwood
Open female - Anna Zywielfk, Antience Simmons and Melissa Butler
Masters II (nine laps or 51.3 miles) - Kenton Roker (2:16); Cassidy Sawyer, 2:!6.03; Ragil Cordva, 2:16.04; Gino Russell; Neil Morado and Diargo Smith
Junior boys under-14 (1-lap or 5.85 miles) - Jason Cates, 18.38; Matthew Reid, 19.42; Enea Gerrasini, 21.21; Barron Musgrove Jr., 23.03; Jordan Cheetham, 23:04 and Jahem Lesky, 26.08.
Under-14 girls - Anjaleeh Knowles, 26.08
Under-17 boys (two laps or 12 miles) - Trevor Ferguson, 48 mins
Elite juniors - Felix Neely, Ijamin Sawyer and Basil McGree