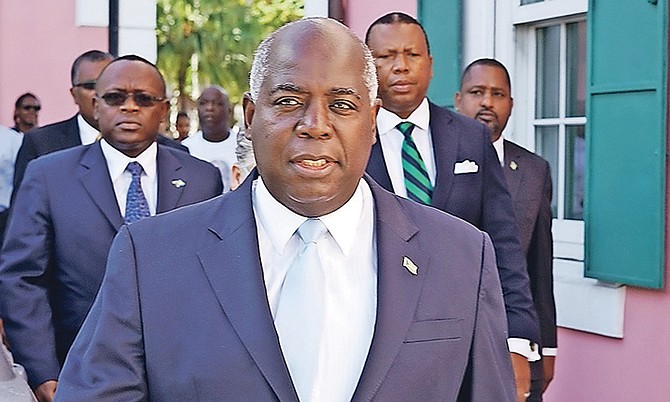 By RASHAD ROLLE
Tribune Staff Reporter
rrolle@tribunemedia.net
WITH Prime Minister Dr Hubert Minnis resuming his Family Island tour in promotion of the budget, opposition leader Philip "Brave" Davis is having second thoughts about doing a taxpayer funded tour of his own, calling Dr Minnis' travels a waste of money all to serve a purely political agenda.
Dr Minnis had pledged to give Mr Davis money to travel the country through his capacity as leader of the official opposition, but the government has not yet provided the funds, Mr Davis told The Tribune.
Dr Minnis travelled to Acklins and Crooked Island Friday and is expected to visit Inagua and Mayaguana on Saturday.
"…(I'll) spread the word about the government's budget," he said Thursday. "And for the first time, I'll bring the Family Islands, they would become involved and they will be informed as to what has transpired during my visit to CARICOM."
Dr Minnis will be travelling to New York next week, but his press secretary Anthony Newbold said he will likely visit the remaining islands in the next few weeks as well.
During the trips, Dr Minnis has refused to take questions from those attending, paid to bus supporters to the meetings, travelled with an entourage and provided refreshments after the events, all at taxpayer's expense, Mr Davis said.
"The public is paying for the prime minister's political jaunts," he added. "He's bashing the PLP and he's meeting with supporters of the FNM after his public meetings and he's not taking questions. Why is he travelling? Just to dictate to people? The more I think about it the more I question whether I should even allow myself to be caught into this exercise, using the people's funds to promote a political agenda. He's already said he's not affording me the same facilities he's affording himself."
In the House of Assembly last month Dr Minnis told Mr Davis he will "go alone" during his travels to the Family Islands, saying "we (the government) will support you."
Mr Davis said yesterday: "He's only providing me with plane tickets to go to one island I want to go to. That's one plane ticket. But he's chartering a plane and taking an entourage with him."
Mr Davis said at a time when the government is declining to host the popular IAAF World Relays event because of a lack of funds, the prime minister's expenses for an unnecessary agenda are tone deaf.
More like this story