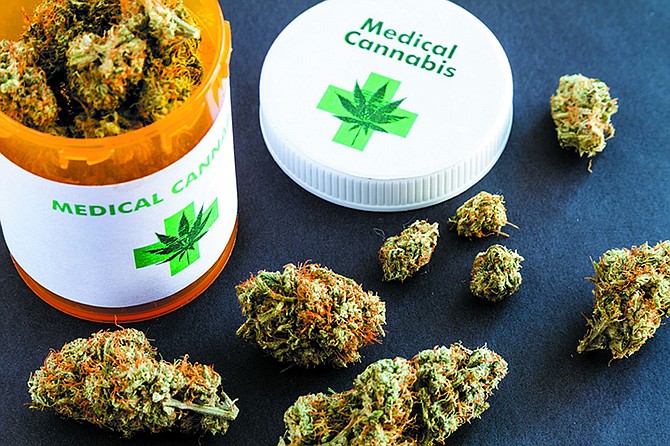 By KHRISNA RUSSELL
Deputy Chief Reporter
krussell@tribunemedia.net
CABINET will discuss the committee to be given responsibility for holding town hall meetings on the possible legalisation of medical marijuana in the country when it meets on Monday, Prime Minister Dr Hubert Minnis announced yesterday.
This committee, Dr Minnis said, will be given three to four months to carry out its work and create a report. He also said the group will have to be provided with the necessary funding for national travel to conduct the meetings.
The Killarney MP first announced the planned creation of a marijuana committee over the weekend on his return from a CARICOM Heads of Government meeting, where a regional report calling for the end of prohibition of the plant was discussed.
"I have Cabinet meeting on Monday and I would put it forward to my Cabinet colleagues (to) seek suggestions in terms of names," Dr Minnis said yesterday. "We would want to put that together as soon as possible.
"The Christian Council, NGOs, University of the Bahamas, to get a broad-spectrum involvement and give them about three to four months to report and provide the necessary funds so that they can travel to the Family Islands and do a national overview. After the report is completed that will be tabled in Parliament, a copy given to the press and debated and discussed and after which we would then go from there.
"But I think the entire nation needs to be involved because we are talking about the future, a change so the nation must be involved."
Asked if he was encouraged by the revenue projections that have come about during public discourse, Dr Minnis said: "I'm not looking at money. I'm looking at what would be the outcome of the report and make determinations from them.
"You do not want to bias the report or individuals' questions or view based on money (or) all sorts of innuendos, no.
"You want to be based strictly on facts. I'm first and foremost a scientist, man. We analyse, assess and determine based on facts, not fiction."
The country stands to reap the greatest benefit from the full legalisation of marijuana production, sale and use with state control, according to CARICOM's regional report, which estimated net benefits for the Bahamas was about $5.5m.
According to the Regional Marijuana Commission (RMC) report released earlier this week, "like Grenada and Guyana, the Bahamas analyses were heavily influenced by data availability. Estimates of benefits were limited to four areas; excise revenues from marijuana sales, estimates of revenues from marijuana licences fees, fees collected from marijuana possession and costs averted from marijuana possession arrests.
"Estimates of excise revenues from marijuana sales were between BSD $180,930 for model three, year one and BSD $207,240 for model two year two. By far, the largest benefit was costs averted from marijuana-related possession arrests, these ranged between BSD $455,080 for model three year two and BSD $3,416,060 for model two year one."
It continued: "Moreover, much like the other countries, marijuana-related vehicular accidents costs were more severe than marijuana-related health costs, ranging between BSD $5,498 for model one year two and BDS $248,475 for model three year two. By way of comparison, marijuana-related health costs ranged between BSD $2,239 in model one, year two and BSD $888,459 for model three year one.
"In terms of total costs and benefits, model three yielded the lowest benefit (BSD $4.76 million)," the report read, "followed by model one (BSD $5.34 million). The highest costs were estimated to occur under model 3 (BSD $1.14 million). Still, in all instance estimated benefits substantially outweighed estimated costs."