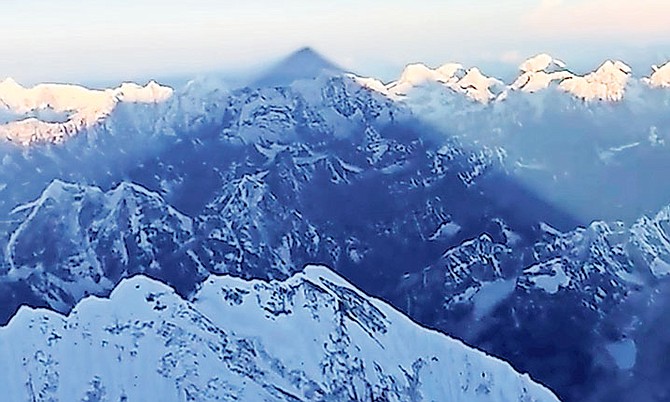 On May 22, Bahamian banker Richard Beek fulfilled his childhood dream when he conquered Mount Everest. Now safely back home, he has had time to reflect on his incredible adventure and write down his journey following in the steps of the brave men and women mountaineers who had gone before him.
MOUNT Everest, rising 29,028ft above sea level is the highest mountain on Earth. The summit of Mt Everest sits on the border between Nepal and Tibet. There are two main climbing routes on Everest, one approaching the summit from the southeast in Nepal (known as the standard route or South Col route) and the other from the north in Tibet. On May 22 this year, I summited Mt Everest via the South Col route from Nepal.
The summit is usually blasted by the jet stream for much of the year, creating wind speeds of up to 200mph and temperatures of -80°F. In May of each year, the approaching monsoons in India push the jet stream north causing the winds to decrease and temperatures to rise, creating a "summit window". During these short windows, climbers attempt to reach the summit knowing the windows usually only last a few hours to a few days at a time.
Due to the decreased air pressure, the summit of Mt Everest contains less than one third of the oxygen found at sea level or in other words what we have in the Bahamas. Typically, climbers achieve the summit after ten weeks of acclimatising on the mountain. If a person was dropped off on the summit directly from sea level, they would die within minutes.
To mitigate the risks of extreme high altitude, climbers undergo a rigorous acclimatisation rotation - climbing to higher camps on the mountain and then back down to base camp – this increases the amount of red blood cells in the body allowing the body to still transport oxygen despite the thin air. On the final summit attempt, most climbers use supplemental oxygen above 25,000 feet.
I flew into Kathmandu on May 5 and then flew to Lukla two days later. Lukla is a small town perched on the side of a mountain and the gateway to the Everest region. The walk into Everest base camp takes two weeks, slowly ascending to base camp situated at 17,500ft – this is 3,000 ft above the tallest mountain in Colorado. At its peak, more than 1,000 people can be at base camp including climbers, sherpas and camp staff.
Once at base camp, climbers begin their acclimatising process by ascending through the Khumbu Icefall to Camp 1. The Khumbu Icefall is notoriously risky. Seracs, crevasses and shifting blocks of ice make the icefall one of the most dangerous sections of the route. To reduce the hazard, climbers usually begin their ascent well before dawn, when the freezing temperatures glue ice blocks in place. Camp 1 is located at 19,685ft and is a basic camp located between massive crevasses.
After spending a day resting at Camp 1, we then climbed to Camp 2 which is further up the Western Cwm (pronounced "Coom", which means valley in Welsh). Camp 2 is at 21,000ft and is the next largest camp after Base Camp. This camp is set up for climbers to stay longer with cooking and dining tents and has more infrastructure.
Every step required a number of breathes before and after. After every eight to ten steps I would have to stop and rest on my hiking poles. I would make myself lean forward as I would then have to move my feet to keep balance and thus move forward again. Later, when we started breathing bottled oxygen, this helped significantly with much needed energy.

Following a further rest and acclimatising day at Camp 2, we descended all the way back to Base Camp, where a welcome few days were spent eating, sleeping and recovering. This acclimatising process was then repeated, where we climbed to Camp1, then to Camp 2; where we rested before ascending 2,650ft to Camp 3.
Camp 3 is located half way up the Lhotse Face which is an icing slope of over 4,000ft in height and at a constant 70 degree angle. While on the Lhotse Face, there are fixed lines that a climber attaches to for safety. In Camp 3, the tent platforms are cut out of the ice, and due to the steepness and exposure, climbers wear crampons and remain clipped into the fixed lines to move around camp and to also visit the toilet!
From Camp 3, we descend to Camp 2 and the following day descend all the way to Base Camp. After six days re-cooperating, we were finally ready for the final summit push. This was planned for Saturday, May 19, however due to forecasted bad weather that was due on May 23, our departure was moved forward to Friday morning, so that we could summit in better weather.
When the time came, we departed at 4am to climb through the Khumbu Icefall while it was still frozen and "safe". Due to our previous acclimatising trips, we are now much quicker and reached Camp 1 at 9am, rested for an hour and then continued to Camp 2. The climb to Camp 2 took a further five hours. Unfortunately there were no clouds nor wind, so the sun was intense and reflected off the sides of the mountains pushing the temperature above 100 degrees Fahrenheit. It is bizarre to be on the ice and experience such warm temperatures. Many climbers suffer from dehydration and are badly sunburnt. Luckily for me this did not happen but it was very tough and uncomfortable climbing in this heat.
The following day, Saturday was a rest day due to the intense effort of the previous day.
On Sunday, May 20, we climbed up the Lhotse face to Camp 3 and started to use supplemental oxygen. The tanks hold over 3,000 litres of oxygen and each weigh over 15lbs. We departed Camp 2 at 4am to ensure we were not climbing in the heat of the day. We arrived at Camp 3 which is located at 23,625 ft, at 11am. Once in our tents, we tried to relax, however the sun is baking down and the tents get very hot and uncomfortable. You are continuously breathing oxygen from here onwards and at night sleep with your mask on.
The climb from Camp 3 to Camp 4 is 2,460 ft which took seven hours the following day. Camp 4 is located at 26,085ft is the last camp prior to the summit.
Already the anticipation level was very high as you are lost in your thoughts and mental checklists. You know that the next 18 hours are going to be the hardest in your life and that it has taken years for you to be in this position. You just hope everything will go according to plan and that this is your only chance at the summit.
Next was Camp 4 which is in the death zone – this is the zone above 26,000ft where the oxygen in the atmosphere is so sparse the human body cannot stay for prolonged periods of time and is slowly dying. It is a very barren, inhospitable and windswept place about 500 yards long by 200 yards wide. Definitely a place that you don't want to hang around in. The fallen bodies from 1996 disaster are located on the eastern side of the col, away from the camp. We did see three bodies and two had died in the previous days. This was very sobering and made you question if it was all worth it. Every day you were having a mental debate with differing outcomes on how you felt.
Once again the sun was intense and we were very relieved to arrive Camp 4. The temperature can change 100 degrees over a very short period of time, so you need to be prepared for extreme cold and also extreme heat.
At Camp 4, climbers try to eat, drink and relax as their summit attempt begins that evening at 9pm! It is very difficult to get much needed sleep, due to the heat and commotion in camp. From 6pm, the Sherpas start boiling water and preparing food, while you are going through the final checks on your equipment, packing your down suit pockets with snacks, water and your camera. Due to the intense cold, climbers do not take off their gloves or backpack. The rests are very short and climbers need to access snacks and drinks from their pockets and eat on the go. During my summit climb of eight hours, I did not take off my backpack, ate one Snickers bar and drank around two cups of water.
Two hours into the climb, my headlamp failed plunging my world into complete darkness – luckily I had a back-up but just an hour later that failed too due to the intense cold that drained the batteries. My Sherpa and I were able to change the batteries in a howling wind and we carried on climbing.
After four hours we reached an area called The Balcony which is a small area where one can rest and swop out your oxygen cylinder. Unfortunately when we reached The Balcony we were exposed to a 40mph wind and did not stop. There was no wind forecast and this wind seemed to increase as we climbed higher. You start thinking the jet stream has returned to Everest and that you're climbing into a storm.
After two hours of climbing in the wind and snow, it suddenly got quieter and the wind disappeared. This was when we were close to the South Summit and the night sky began to get lighter in the east. We had a short rest at the South Summit and swopped out the oxygen cylinder.
The route to the summit is along the summit ridge with is a very exposed fin of rock and overhanging snow and ice. There is a drop of 4,000 ft on one side and 7,000 ft on the other. As it was 4am, the sky began to get lighter and the surrounding peaks slowly began to emerge out of the blackness.
A formidable obstacle along the ridge is the Hillary Step - a near-vertical 40 feet rock face that needed to be climbed. Hillary and Tenzing Norgay famously scrambled up this sheer step in 1953 when they became the first climbers to conquer the mountain. Since that first successful summit, all climbers summiting Everest via the southern route have used ropes to pull themselves up this technical face. However, since the earthquake in 2015, a large boulder 15ft in size has gone and the Hillary Step is now a gradual snowy slope and is now referred to as the Hillary Stairway, making the final ascent quicker and easier.
It was dawn as my Sherpa and I approached the summit and were able to watch the sunrise soon after arriving. A fellow team-mate and his Sherpa joined us after 15 minutes of solitude. The pyramid shaped shadow of Mt Everest was an impressive sight and stretched across to the horizon.
It was surreal to know that my shadow was at the apex of the pyramid. It was warm enough to take my gloves off for a few minutes and take a few photos and videos. After 25 minutes my Sherpa said we needed to start heading down and leave behind the summit I had taken so long to reach and fulfil a dream since childhood.
I felt many emotions - euphoria of being on the summit; relief having made it; trepidation for the tiring descent; in awe of the view and also nervousness. There was also a sense of calmness that you experience in a spiritual place. Everything seemed to be in slow motion with my senses tuned in with the surroundings.
Today being back here in The Bahamas it feels like a dream and surreal. It was definitely worth it and an amazing experience. It was also very tiring and mentally exhausting. But it is amazing how quickly you forget hardship and pain and just remember the good things. I am slowly gaining the weight that I lost which was 10 percent of my body weight. This is not bad and other climbers lost significantly more.
And at the end of the day a small price to pay for that moment of truly being "on-top-of-the-world"!