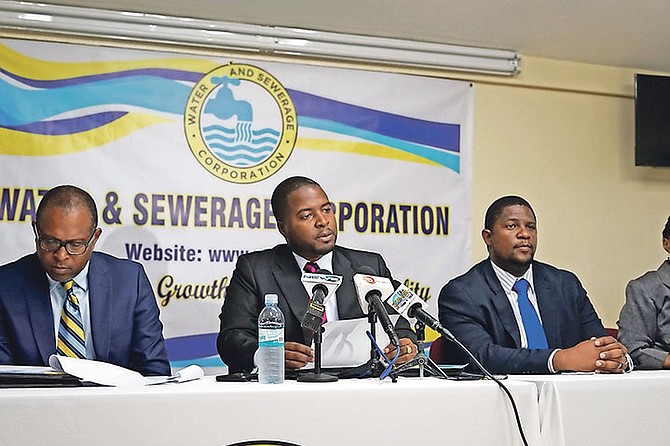 By RICARDO WELLS
Tribune Staff Reporter
rwells@tribunemedia.net
THE Water and Sewerage Corporation is considering offering 80 to 100 voluntary separation (VSEPs) packages to employees as it looks towards "right-sizing," according to Executive Chairman Adrian Gibson.
Saying that plans are now underway to have the packages ready in the coming months, the Long Island MP yesterday insisted that no employee would be forced out.
"As you know, with voluntary separations (VSEPs), we, the board, has a figure in mind. What we will do is review all the applications, just like BPL, some will accept and some, they won't," he told reporters.
"But, because our efforts to right-size, I will tell you this, the corporation could do with a staff reduction of, voluntarily of course, 80 to 100 plus people. But we won't force anyone out the door.
"It will be a voluntary, a totally voluntary process."
Mr Gibson stopped short of giving a firm timeframe for the process, saying only that he anticipates something will happen in a few months.
He also revealed that some base numbers have been discussed, with officials now working to have proposals into Works Minister Desmond Bannister as "soon as possible."
When asked how he, and by extension the Minnis administration, intends to defend more layoffs in the public sector, Mr Gibson said, "We are not firing more people, as simple as that. We are not firing anyone.
"If there is anyone who is terminated from WSC, it will be a totally just cause."
Speaking to The Tribune on the sidelines of yesterday's press conference, Mr Gibson said that as a corporation, WSC has reached a point where critical and decisive action is needed.
He said WSC needed to begin the process of systematic change and transformation, with a view to "open the door to new strategies and improvements."
"There are some departments in the corporation, I don't want to name them now because I want to meet with some of the union reps as well, but there are some that are overstaffed, very much overstaffed; there are some that are very much understaffed," he said.
He continued: "So much like what you see Bahamasair doing now, we probably will have to do some transfers within the corporation, move some people around to ensure that we have, across the board, true productivity.
"And then after the VSEPs packages are offered and some are accepted, there will obviously be recruitment of qualified persons and then, of course, persons that would have left the corporation; that will help with the right-sizing.
"So, the right-sizing will come through attrition, through the voluntary separation packages and through transferring persons in the corporation," he said.
According to Mr Gibson, WSC has to offset the public perception of a mismanaged, low-efficiency corporation.
He said during his tenure, the company intends to reformat its credit and collection procedure, cap overtime, right-size and limit the avenues for outsourcing.
"It is time for serious and true management," he told The Tribune. "We need to start at some point and I think this is it."