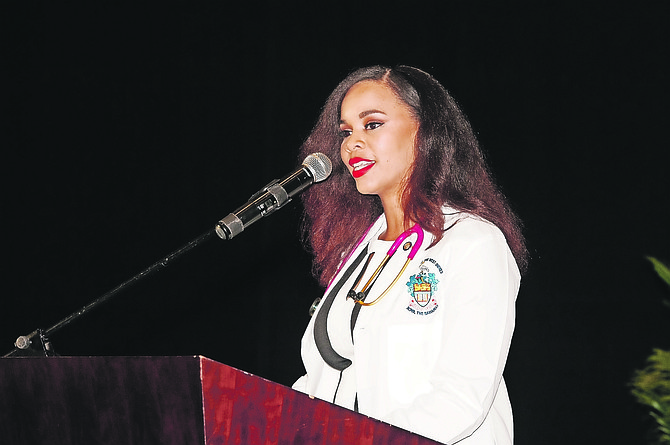 Dr Giselle Outten is one out of 45 newly graduated physicians recently inducted into the Bahamian medical fraternity at the 2018 Induction and Awards Ceremony. She was awarded five out of the seven special prizes of her class.
The event, now in its 21st year, was recently hosted by the University of the West Indies School of Clinical Medicine and Research (UWI SCMR) in collaboration with the Bahamas Ministry of Health at the Baha Mar Convention Centre. The proceedings were conducted in the presence of Prime Minister Dr Hubert Minnis, Vice Chancellor of UWI Sir Hillary Beckles and Minister of Health Dr Duane Sands.
In addition to receiving the Dr Cecil M Bethel Award for Most Outstanding Student, Dr Outten also received the Dr George Sherman Award for Most Outstanding Student in Obstetrics & Gynaecology, the Adult & Paediatric Medicine Award for Most Outstanding Student in Clinical Medicine, the Professor Knolly Alan Butler Award for most Outstanding Student in Surgery, and Most Outstanding Student in Final MBBS (Bachelor of Medicine/Bachelor of Surgery) Examinations.
Other students awarded were Dr Jade-Evette Strachan-Pritchett for Most Outstanding Performance in Community Medicine and Dr Christyn Adderley for Most Outstanding Performance in Psychiatry, respectively.
The new doctors took the sacred medical oath and were presented with their white coats and stethoscopes in the presence of a host of other government and university officials and professors, other members of the medical fraternity, family members and various supporters.
Minister Sands, a physician with 30-years under his belt, encouraged the graduates to remain firm with the growing challenges afflicting the medicine field.
"You newly minted doctors, you have entered into a profession that is dominated by what we call chronic non-communicable diseases (NCDs)," he said. "The sad reality is that oftentimes you have to convince the very patients that you hope to help that they even have a problem to begin with," he said.
"This time in medicine is both a particularly exciting and challenging one for doctors. The way you deal with the challenges will determine your staying power in this profession."
UWI SCMR Director Robin Roberts assured graduates and family members that the journey to receiving their white coats and beyond is supported in more ways than one.
"Graduates and family members, you are not alone in your contributions," he said. "The people of the Bahamas have had a major hand in this as well. Our government invested some $4 million per year in medical education to produce the outcomes we have tonight. God knows, we can't thank them enough."
Sir Hilary Beckles commended the graduates, reminding them that they are "part of a large enterprise for the transformation of this Caribbean." He encouraged them to contribute to UWI's ongoing research to uncover cures for NCDs, such as diabetes, which take such a devastating toll on the health of Caribbean nations.
"Our colleagues are on the cutting edge of global research in this regard and graduates you are the inheritors of this," Sir Hillary said. "I urge you to commit to the research agenda so that we can build the intellectual foundation to get ahead of these issues facing our people. I am extremely proud in the research being conducted by the medical faculty and the chronic disease research centre that is shedding tremendous light on the management of these diseases."