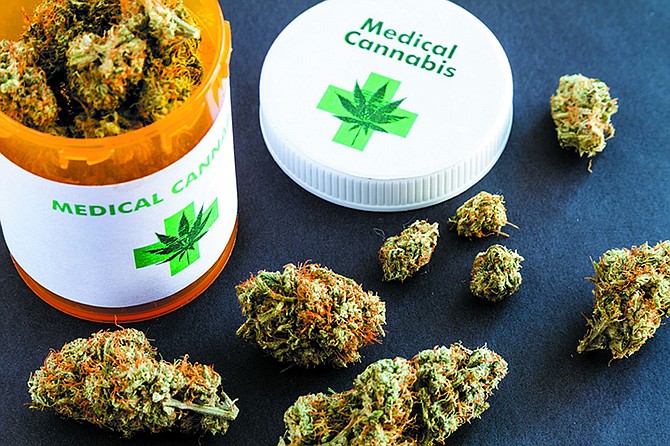 By KHRISNA RUSSELL
Deputy Chief Reporter
krussell@tribunemedia.net
CABINET has approved the establishment of a committee responsible for public education toward possibly legalising cannabis for medical purposes, Prime Minister Dr Hubert Minnis confirmed yesterday.
However Dr Minnis said the make-up of this committee and other operational details will be fine-tuned next week.
Last week the prime minister said the committee would hold town hall meetings and be given sufficient funding to travel to the Family Islands.
He previously said the committee would also be given three to four months to carry out its work and produce a report.
Education
This came after Dr Minnis hinted at his support for legalising the drug for medical use, but said his personal views will not supersede a widespread public education campaign.
Former Prime Minister Perry Christie has also said he would back the move, adding the government needs to look at the implications of withholding the drug from people who needed it for medical reasons.
Former Minister of State for the Environment Phenton Neymour also supports it, claiming medical marijuana treatments helped saved his life when he was battling stage three colon rectal cancer.
Dr Minnis said last week: "We would want to put that (the committee) together as soon as possible. The Christian Council, NGOs, University of the Bahamas, to get a broad-spectrum involvement and give them about three to four months to report and provide the necessary funds so that they can travel to the Family Islands and do a national overview. After the report is completed, that will be tabled in Parliament, a copy given to the press and debated and discussed and after which we would then go from there.
"But I think the entire nation needs to be involved because we are talking about the future, a change, so the nation must be involved."
Revenue
Asked if he was encouraged by the revenue projections that have come about during public discourse, Dr Minnis said: "I'm not looking at money. I'm looking at what would be the outcome of the report and make determinations from them.
"You do not want to bias the report or individuals' questions or view based on money (or) all sorts of innuendos, no.
"You want to be based strictly on facts. I'm first and foremost a scientist, man. We analyse, assess and determine based on facts, not fiction."
The Killarney MP first announced the planned creation of a marijuana committee more than a week ago on his return from a CARICOM Heads of Government meeting, where a regional report calling for the end of prohibition of the plant was discussed.
The report argues that a strictly regulated framework for marijuana, akin to that for alcohol and tobacco, should be introduced.
It said there was a unanimous view that the current classification for cannabis/marijuana as a dangerous drug with no value or narcotic should be changed to a classification of legal cannabis as a "controlled" substance.