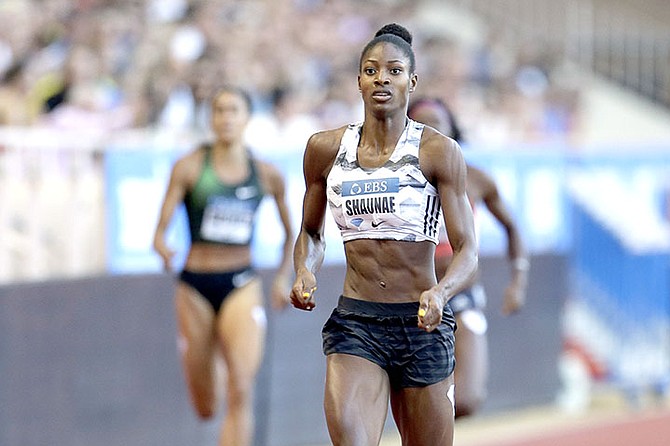 By BRENT STUBBS
Senior Sports Reporter
bstubbs@tribunemedia.net
SHAUNAE Miller-Uibo, who missed out on her attempt at the 200/400 metre victory at the International Amateur Athletic Federation's (IAAF) World Championships last year in London, England, can now boast of holding the national record in both events at the same time.
At the Herculis International Meeting in Monaco on Friday, the tenth spot on the IAAF Diamond League circuit, Miller-Uibo pulled away from the field in the women's 400 metres and held off a late surge by Bahrain's rising young star Salwa Eid Naser to win the much anticipated showdown in an impressive time of 48.97 seconds.
Next to Miller-Uibo's name were the words: WL (world leading time, previously held by American Shakima Wimbley at 49.52); DLR (Diamond League record, held by ); MR (meet record, set by France's Marie-José Perec at 49.16 in August 10, 1996); NR (national record, owned by Tonique Williams at 49.07 in Berlin, Germany on September 12, 2004) and PB (personal best, improving on her old time of 49.44 from winning the gold at the Olympic Games in Rio de Janeiro, Brazil in 2016).
The only thing missing on her name is the world record of 47.60 that was established by Marita Kock of Germany in Canberra, Australia on October 6, 1985, a time that could stand for a little while longer.
In the process, Miller-Uibo used her 6-foot, one-inch frame to post a total of 15 points and move into fifth place in the standings. She will now prepare for the Diamond League Final in Zurich and Brussels on August 30-31 and defend her titles in both the 200 and 400m that she won last year. 
The 24-year-old Miller-Uibo left the 20-year-old Naser closing in for second in 49.08 for an area record and a personal best, erasing her previous mark of 49.55 as she suffered her first defeat this year, while the 25-year-old Wimbley had to settle for third in 50.85.
"I got this sub 49 that I was waiting for, so I'm happy, although also very tired," said Miller-Uibo after the race, where she surged to the front coming off the first turn and maintained her lead on the backstretch, only to open it up on the final straight away as Naser made her comeback. 
"The crowd here was amazing. Naser was doing a great race and that helped too. You know it was only my fourth race over 400m this season. We are trying with my coach different strategies. This was a faster first 200m or something like that. Next goal is to remain consistent on this level and long term another barrier that is 48 seconds."
Miller-Uibo also broke the 200m record with 21.88 last year to erase Debbie Ferguson-McKenzie's previous time of 22.19 set in St Denis, France on July 3, 1999.
Reacting to the performance, Williams, the 2004 Olympic Games and 2005 World Championship women's 400m gold medalist, said she knew, sooner or later, Miller-Uibo was going to take her name down in the Bahamian history books.
"I did not see the race, but I just saw that her mom had sent something out on the executive chat and my reaction was 'oh my goodness,'" said Williams, now the first vice president of the Bahamas Association of Athletic Associations. "Congrats. 48.97. That's a proud time for us in the Bahamas. The first time a female has gone in the 48 range, which is just phenomenal. So I'm definitely happy that we continue to break these glass ceilings, so I'm very happy for Shaunae."
And Steven Gardiner, the 2017 IAAF World Championship silver medalist who broke the barrier for the men in the 400m when he dipped under 44 seconds to snatch the national record (now at 43.88) and add the 200m at (19.75) to his ledger by going under 20-seconds, was just as thrilled about her performance.
"I'm excited about it. A 43 and a 48, it looks good on the country," said Gardiner about their two times. "I congratulated her on running that fast time, world lead, Diamond League record, national record and personal best time. So I'm very happy for her."
But nobody was more thrilled than Miller-Uibo's mother May Miller, who gave God thanks for not just allowing her daughter to be victorious, but to be successful in her race.
"Not only did she get the national record, but she got the Diamond League record," said Mrs Miller, who watched the race at home. "She got a world lead, a meet record and a PB. For that, I say thank you Jesus for God is truly awesome. I had posted something on my Facebook page yesterday and that was for her to do well in the meet.
"I spoke with her this morning and I said to her that 'you are going to break the national record today' and she was like 'you think so, mommy?' She said she was working on this new race module and it felt good to her, so she will see how it pans out. I told her she was going to break the national record. I saw the race and she did it. But I know that she have so much more in her to go further and I know with God's grace, she will go further."
As a proud parent, Mrs Miller said she encouraged her daughter to keep God in the front everything she did and everything will fall into place. 
Also at the meet in Monaco was Donald Thomas, who finished tied for fifth in the men's high jump with Gianmarco Tamberi after they both cleared 2.27 metres or 7-feet, 5 1/4-inches. Danil Lysenko, an Authorised Neutral Athlete, won the competition with a world leading, meet record and personal best of 2.40m (7-10 1/2).
Thomas has already qualified for the IAAF Diamond League final.