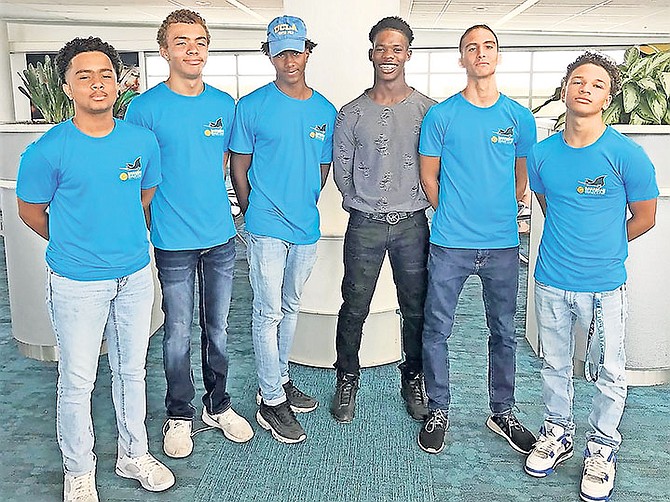 SAEQUAN Miller, Gabriel Sastre, Alexander Turnquest, Nicholas Wallace-Whitfield, Gabriel Encinar, Damian Gomez and Thor Sasso have all been afforded the opportunity to travel to San Jose, California, to compete in the USA Water Polo Junior Olympics.
The players are accompanied by Bahamas head water polo coach Laszlo Borbely. This is the largest water polo tournament in the US with over 400 teams competing in the four-day event. The athletes were selected earlier this spring to join with the North Houston Storm water polo team in the Southwest Zone Junior Olympics Qualifier tournament.
Miller, Sastre, Turnquest and Wallace-Whitfield all competed with the U-18 Storm team that won the silver medal in the qualifier which seeded them in the Under-18 championship bracket at the JO tournament.
The tournament starts on Saturday, July 21 and the Under-18 Storm team will take on the 8th ranked LA Premier.
Encinar, Gomez, Sasso, Sastre, Turnquest and Wallace-Whitfield are on the Under-16 boys that also placed in the Southwest Zone Qualifier, which placed them in the U-16 Classic bracket.
Thomas Illing also competed in the Houston tournament. However, he was unable to attend the Junior Olympics this year.
The U-16 Storm will take on the 5th seeded North San Diego Stars in their first game on Saturday.
While in California, the boys will attend an expo being held by USA Water Polo. This expo will feature presentations on the path to college water polo, being a triple impact competitor, elevating your game and a mental skills clinic. Additionally, there will be a college coach meet and greet for rising grade 12 players.
Bahamas Water Polo senior captain Saequan Miller was recently awarded a college scholarship to play water polo for Salem University.
The Houston Storm is under the direction of head coach Edwin Barrera. The athletes wish to thank their friends and family who supported their fundraising efforts to attend this prestigious tournament.