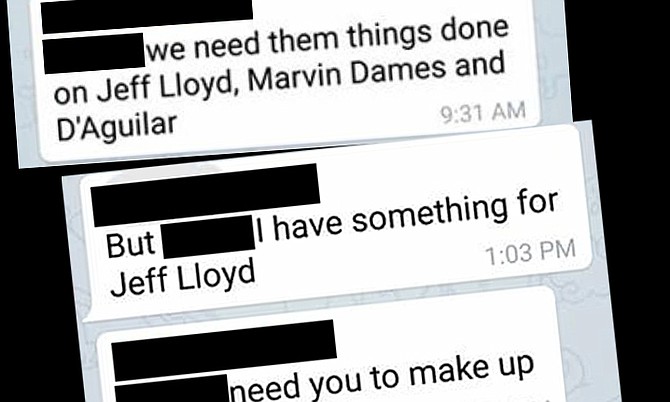 By AVA TURNQUEST
Tribune Chief Reporter
aturnquest@tribunemedia.net
THE Department of Public Prosecutions has been directed to look into viral allegations concerning a political "war room" and its purported campaign of dirty tricks against Free National Movement candidates in the run up to the 2017 general election.
Attorney General Carl Bethel confirmed yesterday the director of public prosecutions has been given the task of reviewing the claims contained in a string of videos, voice notes, and screenshots that have been widely circulated on Facebook and WhatsApp.
"I have asked the DPP to have a look at it," Mr Bethel said. "It raised serious issues when I saw it."
PLP Chairman Fred Mitchell denounced the claims in a press statement issued last night, which asked for those involved to desist using the party's name.
It read: "It has come to attention of the Progressive Liberal Party that there is a voice note circulating on social media claiming that the PLP engaged individuals to act on its behalf in the last General Election 2017, in the name of the War Room, to gather and issue false information on candidates of the opposing Party.
The statement continued: "The Party denounces the claim and states that at no time did it or its election machinery, in the name of the War Room, engage any individual in such acts which we condone as unethical and improper in our democracy."
It is alleged persons were paid by supporters of the Progressive Liberal Party to gather and disseminate false information on FNM party candidates, including now-ministers Marvin Dames, Dionisio D'Aguilar and Jeff Lloyd.
The videos and voice notes detail a personal, unrelated disagreement between two members of the purported war room, which unleashed a litany of allegations as the pair tried to discredit each other.
In one voice note, a man who identified himself as a former police officer and investigator, says: "Sometime last year during the election time, I was called into the PLP war room to conduct investigations...my job in the PLP war room was to find out certain things on certain people who were running for office who are presently in office, my job was to conduct surveillance on certain persons who are present ministers and to find dirt on them...apparently when certain dirt could not be found, I was asked to lie on these persons.
"...Persons like Marvin Dames, the minister of national security.... I was asked to lie and make up stuff on Marvin Dames...I refused to do it...I was asked to lie on Jeff Lloyd...I was also asked to make up stories on Mr D'Aguilar."
The purported screenshots depict exchanges between war room members in a group WhatsApp chat.
In one screenshot, a user purportedly details "morning assignments for the day," and states: "I need you to mash up the FNM up on their instability and childish antics…your task today is to talk on the importance of universal health care…your task today is to talk on the importance of food security and BAMSI…we need them things done on Jeff Lloyd, Marvin Dames, and D'Aguilar. . ."
Mr D'Aguilar, minister of tourism, came under fire on the campaign trail when leaked documents confirmed his company Superwash Ltd provided "falsified invoices" in 2014 to the Customs Department, and as such, paid less duty than what was owed.
Superwash was fined $15,000 and ordered to pay the remaining balance which was done several weeks later in January 2014.
When the information surfaced in April 2017, Mr D'Aguilar admitted that the invoices were altered but claimed that Superwash "was the victim of a fraud by an unscrupulous broker."
Yesterday, FNM Chairman Carl Culmer declined to comment on the matter as there was no evidence the allegations were credible. He suggested it was up to the police to determine whether the matter is formally pursued.
• The article printed on Monday states the Director of Public Prosecutions has been "tasked with investigating the veracity of claims contained in a string of videos, voice notes, and screen shots that have been widely circulated on Facebook and WhatsApp". However, the DPP does not investigate matters, instead the office refers a matter to the police if it deems so appropriate. The police will then consult with the DPP after they determine if there is sufficient evidence for a charge.