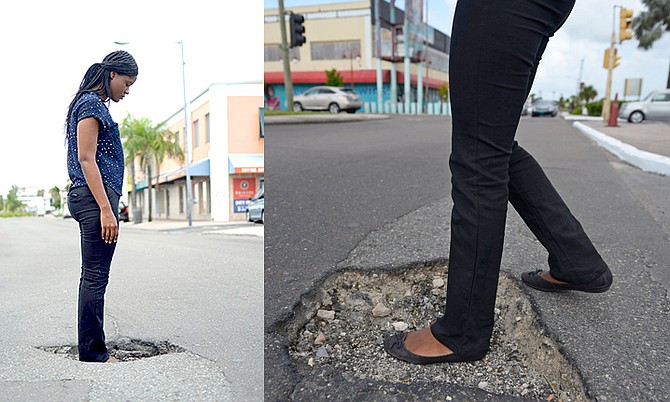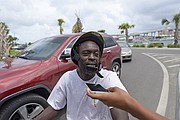 By FARRAH JOHNSON
Works Minister Desmond Bannister signalled last week he was proposing massive $10,000 fines for utility companies who dig up roads and then leave them looking like an assault course for motorists.
If his plan comes to fruition then given the state of many of our roads then this could quickly provide hundreds of thousands of dollars for the Treasury.
Last week Insight took a look at one of the busiest roads in the whole of New Providence - a stretch of road running on East Bay Street from the Paradise Island return bridge to Harbour Bay.
Within just a few yards you hit your first deep pothole - and it certainly isn't the last.
For the next half mile there is a never-ending patchwork of holes, cracks and areas where the surface has been dug up, filled in, dug up and filled again - countless times.
Just a few months again Mr Bannister's men were busy resurfacing Eastern Road and a fine job they did too, albeit the work overran for a week.
As every motorist who travels Eastern Road into down town will tell you the state of this road before the work was carried out was pristine compared with what they have to endure on East Bay Street.
Insight isn't alone in thinking East Bay Street should quickly be on the top of Mr Bannister's things-to-do list.
Chris Roberts, who travels on the street regularly, said the abundance of potholes on the road is concerning.
"From what I thought, they had companies who were contracted to check the roads and get that stuff sorted out, but it appears as if they're falling off because in some areas it's really bad," he said.
Robert Brown, owner of Brown's Boat Basin, said he agrees sections of the road needs to be resurfaced.
He said people who frequent the area have become accustomed to the potholes, he said it "would be really nice" if something could finally be done to remedy the issue.
"The inconvenience is just avoiding them. I guess it helps (to) slow us down - natural speed bumps - but it should be better than this, particularly one of the main roads of Nassau," he said.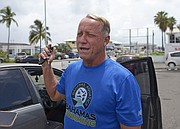 Another motorist, Andy Knowles, said he wished the road could be "fixed quicker."
"I just feel that potholes should be something they should have somebody dealing with it, like 24/7. All they should do is go around and fix potholes because if they don't fix them so many cars get hurt and wrecked and people get hurt," he said.
Car drivers are not the only motorists affected by the potholes.
Spellman Munroe explained that as a motorcyclist, manoeuvring around potholes on the street "isn't easy".
Mr Munroe admitted it is especially difficult for him on the road, because he has to be mindful of crashing into cars when trying to swerve to avoid potholes.
"All these roads bad and it's dangerous because if you fall in them (potholes) it can cause you (to) lose control - especially when it rains because you can't see the hole," he said.
Tanya Higgs, who conducts business in the area, said she is also concerned about the number of potholes on the street because they have already put her "in expense".
"If you drop in a pothole you cause damage to your car. Right now I just finish fixing a part on my car based on dropping in one of those potholes, so I wish they would hurry up get the work done," she said.
However, Ms Higgs added that she "appreciated" the effort that has been put into road reconstruction so far, and said she believes the government is doing "a good job with trying to get the roads sorted out".
For months in 2016, The Tribune's "Fix My Street" campaign highlighted scores of potholes and damaged road surfaces on behalf of frustrated motorists.
Two years on we're having to raise the same issue.
The government has asked residents to use the hotline, 302-9700, at the Ministry of Public Works to report roads which need repairs.
Let's give them a call.