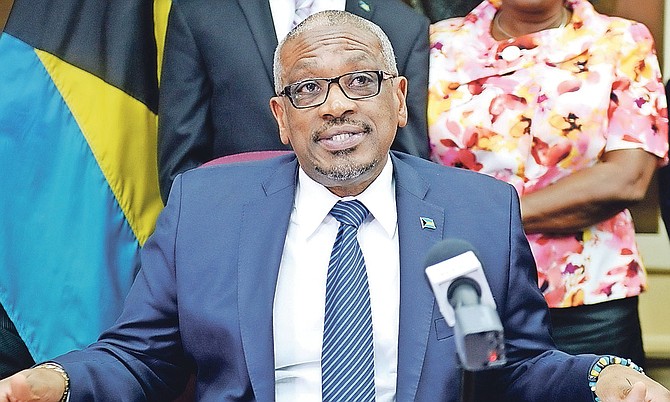 By RICARDO WELLS
Tribune Staff Reporter
rwells@tribunemedia.net
THE Prime Minister's Delivery Unit and other departments are expected to travel to Singapore to determine how best to modernise and streamline government projects and policies.
Prime Minister Dr Hubert Minnis said he has already had communications with Singapore Prime Minister Lee Hsien Loong on the matter, noting the commitment of his counterpart to aid the Bahamas in improving its technology.
"We have too many problems with having to run to one agency for information, running to another," Dr Minnis said yesterday.
"What can be done via computerisation and proper inter-connectivity in a matter of minutes, takes us now months, and Singapore has made a commitment to assist us with that," he added.
According to Dr Minnis, the heads of the PMDU and the government's IT Department and at least one other person will make the trip.
Importance
While he stopped short of giving an exact date for the trip, Dr Minnis did insist the matter remains of importance to his administration's efforts.
Creation of the PMDU was announced last November by Press Secretary Anthony Newbold and officially formed in May.
Mr Newbold said once established, the 11-member team would be "responsible for tracking projects and initiatives set out and agreed by the prime minister and establishing timelines for the completion of such projects."
In addition to analysing these needs, a "management mechanism" must be created that will underscore "accountability, transparency, and results delivery" throughout the nation. The six key priorities the PMDU will initially focus on are the Over-the-Hill Rejuvenation Project, land reform, energy reform and infrastructure, ease of doing business, education and safety and security.
The government has started work, in full or in part, on all six of these initiatives.
According to the prime minister, the Delivery Unit will differ from other agencies in the sense that it will "have the mandate and the authority of the prime minister to seek information from any ministry and analyse that data and to ensure that we're keeping on schedule for that timeline."