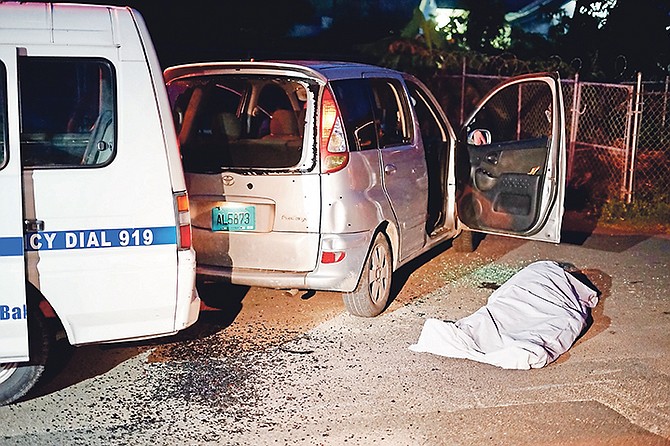 POLICE shot and killed an alleged armed robber who they said opened fire on two officers after pinning them against a vehicle. 
The man, who police identified as Dario "Geico" Tinker, had been sought for questioning for several weeks. Police said he was found driving a stolen car, taken during an armed robbery on Wednesday, and a pistol was recovered from the scene. 
The shootout occurred after 6pm on Friday after police received reports of a wanted man in the area of Williams Lane off Shirley Street. Police officers went to the area and saw the suspect get into a vehicle.
"Shortly after 6pm, officers were dispatched to this area here of Williams Lane, just off Shirley Street, with respect to an individual who was wanted by the police in reference to recent armed robberies and rape," Assistant Commissioner of Police Clayton Fernander told reporters at the crime scene.
"On arrival, officers saw the individual who was in this small, silver vehicle. Officers exited. . . the individual made an attempt to drive off, pinning two of the officers between the vehicles. He then produced a firearm and fired at the officers, officers being in fear returned fire, the individual was fatally shot right here on scene.
"On further examination of the vehicle," he said, "it was discovered that the licence disc and the plate that was attached does not correspond for that vehicle. On further examination it was discovered this vehicle was taken in an armed robbery at gunpoint from a lady just two days (before) . . . it was discovered that a loaded pistol was found just between the seat of this vehicle."
ACP Fernander said the officers involved were "shaken up", but not visibly injured. 
"They will seek whatever attention from the hospital if they feel there are some injuries upon them," he added. 
He also stressed that police officers are committed to keeping the streets safe. He sent a stern warning to criminals that situations like the one that occurred on Friday will be the end result if they continue their criminal lifestyle. 
"We are not trying to blow horns because we don't want it to end like this. These are young persons who decide to go into that life of crime and we want to say and send a strong warning to those persons who continue to live that lifestyle if you do, that could be the end result, if you engage police."
There have been several fatal police shootings in recent months. In the face of questions, ACP Fernander said the integrity of the RBPF and the officers involved in these incidents is still intact. 
"The integrity of the police force and the officers is intact. The officers, their life is on the line as well, and there is a process going on," he said referring to the fact that police-involved shootings are referred to the Coroner's Court for investigation. 
Most recently, in late May, 20-year-old Deangelo Evans was killed by police who were responding to an armed robbery of a store on East Street and Bethel Ground Corner. Police said one of the people they believed matched the description of the suspects was shot. Police said one of the suspects produced a firearm, leading police, who were in fear of their lives, to open fire.