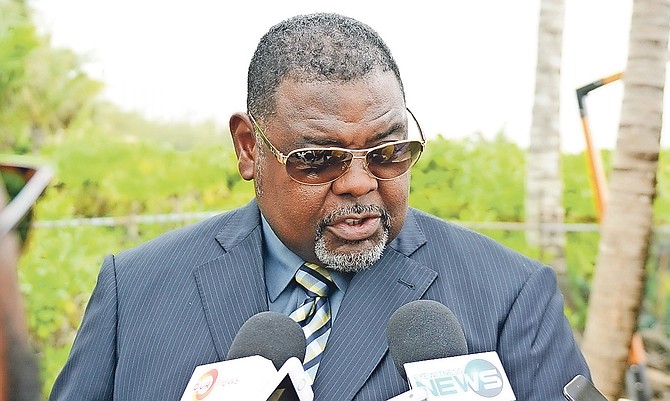 By AVA TURNQUEST
Tribune Chief Reporter
aturnquest@tribunemedia.net
LABOUR Director John Pinder yesterday expressed a desire to review the application process of long-term work permits, telling The Tribune there should be increased stipulations to guard against abuse.
Mr Pinder, a former trade unionist, stressed the need to strengthen labour policies related to work permits, telling this newspaper he had received at least 100 vacancy notices per week.
"The amount of NOVs (notice of vacancy) that come to my office – there are thousands of people on work permit applying for vacancies. Sure most of them are handymen or maids; we have to encourage Bahamians to take these jobs. It's minimum wage but when you add all the benefits – the job they advertise could see someone potentially take home $20,000 annually," Mr Pinder said. 
"At least 100 a week," he continued, "that's over 5,000 people every year applying for work permit."
Yesterday, Mr Pinder also underscored the need to strengthen NOV criteria – particularly stipulations concerning the training of Bahamians.
"So that when an employer wants to bring in a foreign worker, advertise in newspaper, and then come back and say they can't find no suitable Bahamian or no one applied," he said, "when we put these stipulations, we need to ensure the people they're bringing actually have the certification they asked for, and that it's authentic."
Mr Pinder said: "We need to ensure when there is supposed to be training for Bahamians to take over that the Bahamian is identified and there is some format or curriculum in place to follow."
A labour certificate and NOV is required from the Department of Labour for long-term work permits.
There are special circumstances that allow for an expedited application process; however, the normal process requires employers to advertise the position vacancy in one of the daily newspapers for a period of three days.
The employer is then required to provide a copy of the advertisement, a receipt of payment and photo identification to the Labour Department. If approved, a labour certificate is issued and the employer will attach this document to the application for a work permit at the Department of Immigration. Rejected applications are referred to the Employment Exchange Unit (EEU), which is tasked to utilise its database to identify suitable Bahamian job seekers within a four to six week period. If unsuccessful, the NOV application is then resubmitted to the director of labour for approval.
Immigration Minister Brent Symonette told The Tribune in August last year that the high volume of permit applications was the greatest challenge faced by officials. He pitched the idea of introducing ceilings on permits for domestic jobs, and other industries; however at the time, he admitted he did not expect the suggestion to be favourably received.
Since then the government has passed the Commercial Enterprises Act, officially known as the Act for the Designation of Specified Commercial Enterprises and Specified Economic Zones in the Bahamas.
The legislation enables a "specified commercial enterprise" to obtain an Investments Board certificate granting it a specific number of work permits for certain positions.
The Act's fast track process, targeted at specific industries, was touted as a bid to allow top foreign executives to enter the Bahamas without possessing work permits.