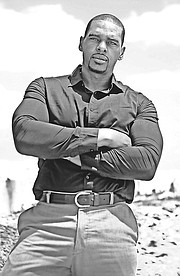 Health coach Ethan Quant, of Elite Wellness Solutions, has succeeded in his weight loss journey and now wants to share his methods with the Bahamas in an effort to foster a culture of wellness and conquer the obesity epidemic.
Currently, the Bahamas ranks first in the world in diabetes, sixth in obesity and also is recognised as having one of the worse hypertension rates in the Americas.
CARICOM Heads of State predict that in the next 20 years we will see a 300 per cent increase in deaths from non-communicable diseases (NCDs). Naturally, this begs the question – how do we get well? How do we become more aware and make choices towards a healthy and fulfilling life?
The answer to this question has many layers to which we can agree that there is no single solution to our problem. There are many factors that we have to take in consideration. Therefore, we must be guided by what's in the best interest of the masses. Moreover, looking at the fact that the majority of the Bahamian population is overweight or obese, addressing this epidemic at its core will make the greatest single impact on the improving quality of life for Bahamians for generations to come.
We have to transform the culture and mindset of our people to save the country from this deadly epidemic. This means that we have to shift our current approach to obesity from the old, ineffective ways that have obviously not been working. We have to move away from fad diets and short-term fitness programmes and focus more on balanced nutrition and increased daily physically activity. These coupled with increased awareness of our own mental and emotional health and wellness.
Wellness is a state of "complete physical, mental and social well-being and not merely the absence of illness," according to the World Health Organisation. In order to truly fight against obesity, we need to treat it like the deadly disease it is. We have to first educate and create awareness in the public on the dangers of obesity and ways to prevent and treat it at all stages of the human life cycle, from childhood to seniors.
As a people, we have the gross misconception that individuals are obese because they are lazy, have little self-discipline, and/or self-control. Many people are of the opinion that, people suffering from obesity live struggling every day with this disease because they chose to or because they opted not to do anything about it. This couldn't be further from the truth. Hence why it is important for any obesity prevention or treatment programme to include a lifestyle modification and behavioural change component.
The vast majority of Bahamians need help, guidance and support in making those small, but incredibly challenging changes to their daily lives to ensure sustained success. This success will not only include weight loss, but also with improving their overall quality of life. We have to understand that everyone is different and health, wellness and fitness professionals must be prepared to meet individuals where they are and give them the tools, skills and confidence to truly transition to a healthier version of themselves.
Of course, there are many different moving parts in this war on obesity, like public education, creating safe spaces outdoors for people to engage in physical activity, making access to healthy food options easier, and developing community, government and private sector wellness programmes that can reshape the environment and reinforce the message of good health.
We must put every Bahamian in the best possible position to succeed in living a healthy, happy and more productive life, and move the Bahamas and Bahamians towards total wellness.
• Contact Elite Wellness Solutions at 677-2459 or check them out on Facebook.