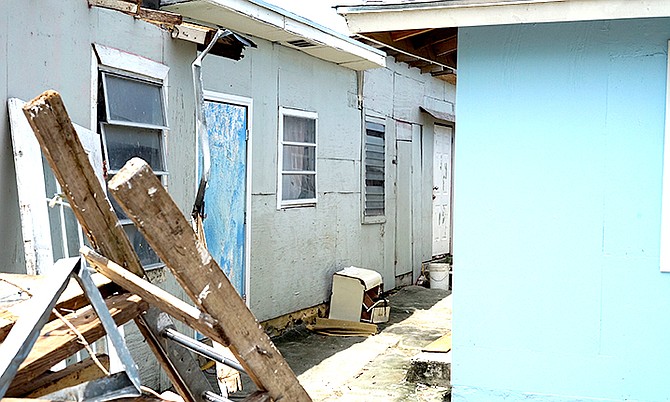 By MORGAN ADDERLEY
Tribune Staff Reporter
madderley@tribunemedia.net 
HAITIAN Embassy First Assistant Secretary Karl Henri Chatelier has been working with the Bahamas government, local clergy, and the Haitian community to help develop alternatives to residents being evicted from shanty towns, while bettering the conditions of those areas.
In an interview with ZNS Morning Edition, Mr Chatelier suggested the options of renovations that will bring shanty town residences up to building codes, leasing the land, and extending the eviction deadline.
"They are willing to rebuild the shanty towns with their own possibilities," Mr Chatelier told ZNS.  
"They will respect all the requirements, like the electricity, waters – everything and give another face to the shanty town. And allow the government Bahamian to have the happy ending and them too to live in a better place." 
Purchasing or leasing the land is another option he wants the government to consider offering residents.
"They want to purchase or, if the government to allow them to, lease them, if they can have, if I can say, the accord, something that can allow them to stay on the land, and something legally. And they can pay every month, and they will rebuild the shanty town." 
Ultimately, the Haitian government official said the August 10 eviction deadline is too soon, and that relocations will take more time.
"August 10, I don't think the shanty (towns) will be ready. Because there's a lot of families, they were quiet since June and the beginning of July, because they know the house was safe. But since last week, the storm was begging for them."
However, Mr Chatelier admitted that the residents want to improve their standard of living. 
"They know their situation isn't good," he said. "And they know their condition is unsanitary. They don't want to stay in that condition."
Yesterday, The Tribune canvassed a shanty town off Carmichael Road. When asked about the eviction deadline, many residents expressed similar views as that of Mr Chatelier. 
A woman who gave her name as Rose, who lives with her mother, three children, and a disabled brother, said the deadline is too short. 
"They came here and told us…after 28 days we have to move," she said. "That is too short. A lot of people around here, they have like more than two or three kids, and some of them they don't work and people don't want people with children in (their) apartment. 
"I feel as if 28 days is too short."
When asked how long she would recommend the deadline be extended for, Rose suggested three months. 
"I could understand if they gave the people them three months… Those who ain't working, they could find (something) to do, save up money.
"Because when you look at renting an apartment, you have to pay first, last, and security. "And that's like over $1,000, like $1,500 dollars. You should at least give the people an opportunity to try find that money, and in 28 days it's too quick to find that money."
Rose also expressed concerns about the levels of crime in the communities where the government is suggesting shanty town residents relocate.
"The areas that they sending us in is not good. Even though this a Haitian village, there's not a lot of crime.
"And if you send us in these village where (there's) a lot of crime, in the future they'll blame the Haitian-Bahamian for the crime. I don't think they should just send us to those areas." 
Referring to her disabled brother, Rose claimed no consideration has been made to persons living with disabilities. 
"Well, with them telling us we have 28 days, no one came to visit us and find out if there's any persons with any disabilities," she said. 
"So, I feel as if they don't really care about us. They only care about us when election. Because when it's time for election, you see all type of people. 
"No one came to find out, well, 'is there anyone disabled? Are there any elderlies?' No one came at all." 
Rose also told The Tribune that news of the relocation has hampered her dreams of becoming a social worker. 
"I was planning on going back to school in September, but I feel as if like if we have to move, and me not working, I feel as if it'll be difficult for me to go back to school.
"Instead of…the government trying to help me, I feel as if they trying to break me down and bring me down."
A man who wished to be identified as Junior said his parents have lived in the shanty town for over 15 years. 
He added that work for his father, a carpenter by trade, has been slow, and that his family "wasn't ready" for an eviction.
"The house done build," he said. "They done spend all type money on that house."
On July 12, an official from the government's Shanty Town Action Task Force said more than 200 rental units have been identified and logged as alternative housing for evicted shanty town residents.
Colin Wright, chairman of the Alternative Housing Committee, a subcommittee within the task force, said his unit has identified and documented just over 200 vacancies around New Providence that range between $400 and $800 per month in rent.
Earlier this month, the government pushed its July 31 deadline for New Providence shanty town evictions to August 10.
The task force assessed 1,410 residents from the 428 households, and revealed most are long-term residents aged 40 or older with an average of three persons per household and total weekly incomes of less than $400.
The task force has also revealed that, of the 14 properties which provided legitimate construction permits to authorities in recent weeks, none was ever granted an occupancy certificate.
As a result, task force officials yesterday said that no home identified in any of the communities meets the criteria to remain.