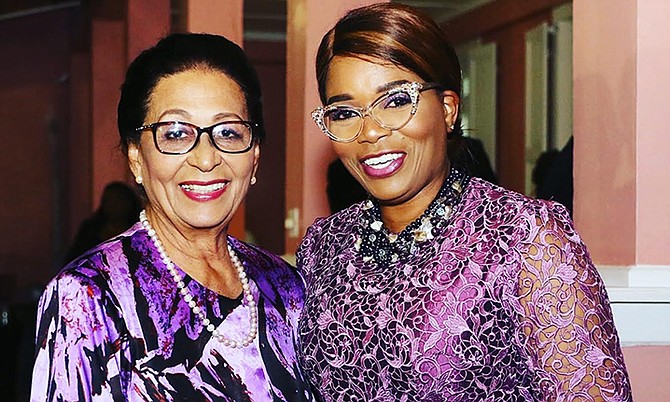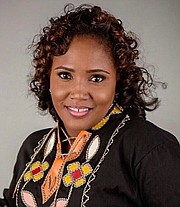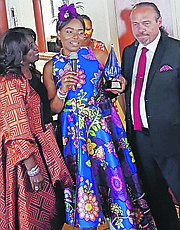 By FELICITY INGRAHAM
I was scrolling through Instagram one day when I came upon the work of this Bahamian designer. I was in awe. I followed her immediately. Since then, I have had many a jaw dropping and breathtaking experience seeing another one of her creations pop up on my timeline. Even her business name is a cut above – Remilda Rose is a name attached to some of the most beautiful garments to touch red carpets and turn heads in The Bahamas.
When I met her in the fabric store, she touched my shoulder and introduced herself. She knew exactly who I was because I clicked "like" on almost every post she's made since I discovered her. She told me her name and it didn't ring a bell. But the second she said "Remilda Rose", I lit up. After a little chit chat, I knew there was a lot more than fashion this woman has to share and sitting down Face to Face with her later on proved just that.
Gillian Curry-Williams has fashion in her blood. Her father was a tailor and her mother, a seamstress. Both parents, however, were also civil servants. Donald Curry was an accountant with Bahamas customs and his wife Letitia Curry (nee Taylor) was a nursing officer. The couple had three children – Mario, Adrian (now police supt) and Gillian was their only girl.
When Donald and Letitia met, they were both in fashion mode. Donald was a professional tailor at the time, making suits for people from all walks of life. Letitia was in nursing school, but she learned how to sew from her mother and was good at it. But Donald had another profession that possibly contributed to him catching Letitia's eye. He was a well-known musician who played at numerous events and for people from all around the world who came in on the cruise ships to Nassau's harbour. He played lead guitar and would stroke up many a Bahamian tune to the delight of his listeners. He was a part of the popular band "Vince Martin and The Bahamians" and also played with many other musicians during his time such as Ronnie Armbrister.
When Gillian found some music from the Vince Martin quartet and played it for me, we both sat there, chins upward, as if we were gazing into a time gone by. The music literally made you feel as if you were back in time – a time when Bahamian music was played in sweet rhythms, slower than today, but quick enough to make you tap your feet and bob your head. The lead guitar could be heard just as clearly as the pride on Gillian's face could be seen as she heard her father's music.
As I listened, I wondered why we (as a country) don't do more to preserve this kind of sweet Bahamian melody and play it on the radio more often, like Charles Carter does at Island fm. Gillian says her father loved his Bahamian music and kept lots of records that he purchased from fellow musicians. Seeing photos of her dad playing professionally back in the day added to the nostalgia.
Once Gillian's parents married her father decided it was time to take things to another level. So he went back to school to take up accounting, earning his Pitman certificate. Eventually, he became an accountant with the Bahamas Customs Department and his wife became a certified nurse. Letitia Curry is a name well known in the hospital and for years, she served in the maternity ward, delivering countless Bahamians safely into the world. She was well-known and well-liked because of this and became like a mother to many. On one occasion nurses were having trouble getting a tube down a patient's throat. Nurse Curry, who was pregnant at the time, was able to assist patient Wilson. He repaid her by becoming Gillian's godfather – this being one of many testimonies of how her patients became a part of her life.
Gillian attributes much of her good upbringing also to her "mama", Remilda Taylor. Mama lived off of East Street opposite the home of the parents of former Premier then-Prime Minister, Sir Lynden Pindling.
"We spent a lot of time at mama's house because my parents were working, or sometimes we would go to daddy's office," Gillian shared.
"I can remember mama's cooking right now. She had a big, black steel cast iron pot. I loved her peas n' rice and steamed chicken… they don't make steamed chicken like that anymore. And I loved her soup! I could see her sitting on her porch right now… she loved her porch."
She first attended St John's preparatory school, which was located in the church hall of Christ Church Cathedral, George Street. She then went on to St John's college where she completed all of her schooling up to grade 12.
"As far as I was concerned, history and physics and all that I had to do, I didn't feel I needed to do," she confided.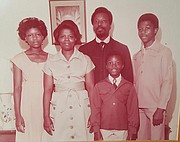 "I did what I needed to do to but my mind was on one goal. As long as I could remember, all I wanted to do was fashion designing. I did my schoolwork, though. I didn't really have any dolls growing up; my books were filled with sketches."
While her parents were busy with their government jobs, both kept creating quality garments, because the requests kept coming in.
"While my mom was off to work at the hospital, I would take the fabric that people brought to her to make their dresses, and I would cut it," said Gillian.
"When she came home she would be scared, and tell me that I can't go cutting people's fabrics. But I would cut it right every time. The first outfit I made by myself was for my mother. It was celadon green, it had wide sleeves and a cuff. It had a yoke in the back and in the front, and the yoke in the back had six buttons. It had a zipper, and it was pleated. The pleats were stitched part of the way down and then it opened up."
With this kind of fervour for fashion, Gillian was well on her way to fashion design school. It was the late Dr Bernard Nottage, who was Minister of Education at the time, who granted her first scholarship. She spent four years at the American Academy for Applied Arts and earned her bachelor's degree in fashion design and pattern making. When she returned home, she found herself sewing lots of work uniforms, as that's where the money was at the time. She would sew uniforms for institutions like the Broadcasting Corporation of The Bahamas (ZNS) and Nassau Flight Services. Later on, she opened a sewing school, spending an entire decade teaching others this useful skill. She then opened a studio and started decorating, successfully beautifying weddings and events for the next seven years.
Then Gillian hit a low point. She had travelled to take her son to university and when she returned, the landlady of her Prince Charles studio had changed the locks and refused to give her any of her belongings.
It was a tough moment in time, Gillian recalled. "I had gotten married and it didn't work; I was going through a divorce. I was mentally frustrated, I wasn't functioning and my creativity just wasn't flowing. A friend encouraged me to apply for a scholarship and go back to school. I thought no one would give me a scholarship at my age!
"I applied at the Lyford Cay foundation where my son (Donovan, a flight dynamics engineer in Georgia) had earned a scholarship. Initially, they told me that I was chosen as an alternate. Then, they told me the application was denied. Three weeks later, they told me that (a scholarship recipient wasn't able to receive it) and I had been chosen! I still have all of those letters. If I didn't take the steps I needed, combining my faith with my works, it would not have come together."
With high aspirations, Gillian set out for the Academy of Design in Toronto, Canada. It wasn't until she was wrapping up her studies and she had to write a biography that professors found out she already had a degree in design. She wanted the experience to be new and fresh, as if she was learning all over again from scratch.
It was during one of her marketing classes that Remilda Rose designs was born. Initially, her company was called "Simple Elegance", but her marketing professor was not satisfied. Eventually, she had a light bulb moment. She leaned on the inspiration of the two most important women in her life. She took her beloved grandmother's first name, Remilda and her mother's middle name, Rose and combined them, much to the delight of the professor. She was then instructed to create her brand, motto and logo, which are still in use today.
Remilda Rose has blossomed with the motto: "Embracing, Embellishing and Empowering the Beauty in Every Woman."
She is called on by women from all walks of life to create some of the most exquisite designs seen at events around the country, and now her fashion is reaching other parts of the world. She is in a much happier place now. She is married to attorney Franklyn Williams who gives her the support and encouragement she needs to continue to grow as a designer.
During the weekend of July 13, Gillian was invited by the CEO of Women of Wealth Magazine to attend the Billionaire Roundtable Summit. The event took place in Florida on the Sun Dream Yacht. There, Gillian received the award for "Uncommon Leadership". She was hailed for her "humanitarian cause – fighting cancer with fashion".
When Gillian's father was diagnosed with cancer, it heavily impacted her life. She would often take her father for treatment at the hospital and there she met others fighting cancer. She thought to herself that there must be something she could do to honour them. She decided to host what would become the first of many fashion shows, featuring cancer survivors as many of the models.
On July 20, her latest round of nominations closed; people were encouraged to nominate someone they know, male or female, battling cancer to be featured in the next fashion show to be held on October 21.
Gillian designed a fabric to honour all people battling cancer. She showed me a beautiful material which utilised the colours specifically associated with the awareness campaigns for various types of cancer. This material was patented in the United Kingdom and printed in the United States, through a tedious process, which she considered a labour of love. When her father was buried, he was wearing a bowtie made from the fabric that he inspired.
To see Remilda Rose's fabulous designs, check out Instagram or Facebook.
• Due to a production error last week's Face to Face featured the wrong photographs to accompany the story of Theresa Elizabeth McCardy-Burrows. The full interview with the correct pictures can be found at www.tribune242.com. We apologise for the error.